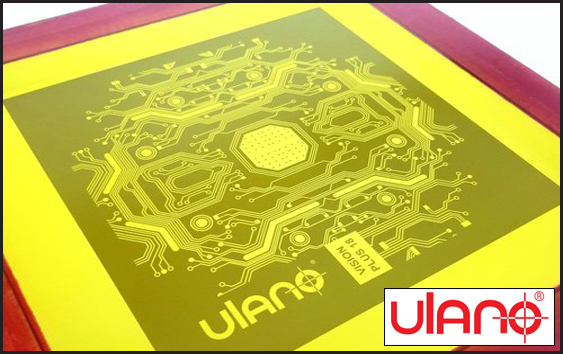 Ulano launches CDF Vision Plus, a diazo dual-cure capillary film system
07 April 2021: Ulano Corporation, Inc., represented in India by Skycreen International, has launched CDF Vision Plus, a diazo dual-cure capillary film system. According to Martin Stacher, Director of Ulano, its anti-halation properties reduce light scattering and improve resolution and edge definition and it has wide exposure latitude. It is suited to such printing applications as: electronics, circuit traces, membrane switches, halftones, CDs and DVDs, ceramic decals, posters, and containers and bottles. CDF Vision Plus is coated at thicknesses of 18 μ and 25μ.
Giving technical details, he says that its special formulation controls mesh penetration and forms an enhanced cross-linking "matrix" during exposure, resulting in sharp printing shoulders and mechanical durability. Particulate-size control reduces granularity effects, further enhancing resolution and definition.
Martin explains that under high humidity conditions, CDF Vision Plus resists polishing in the roll, and fingerprints and curling in the shop. CDF Vision Plus is compatible with UVs, vinyls and virtually all solvent-based inks.
Some of the benefits of CDF Vision Plus are that it has excellent imaging properties. It offers enhanced cross-linking results in sharp printing shoulders. Its Microfiltration controls particle size, reducing granularity effects and it has Superb acutance (printed edge definition) and resolution.
Moreover, CDF Vision Plus is Solvent resistant and compatible with aggressive inks and solvents and it can be reclaimed easily without staining screen fabric. It is also humidity resistant and resists polishing in rolls hence there is no fingerprinting. And Wet processing reduces drying time and pinholes; speeds production.
Finally, the product is easy to use hence, it requires minimal training required; it offers fast stencil turnaround thus significantly less labor and production time and has wide exposure latitude.
"The product is available in rolls or custom-cut sheets (no mess, no waste!)"…  this is the punch line of Ulano.
www.ulano.com / www.skyscreenindia.com