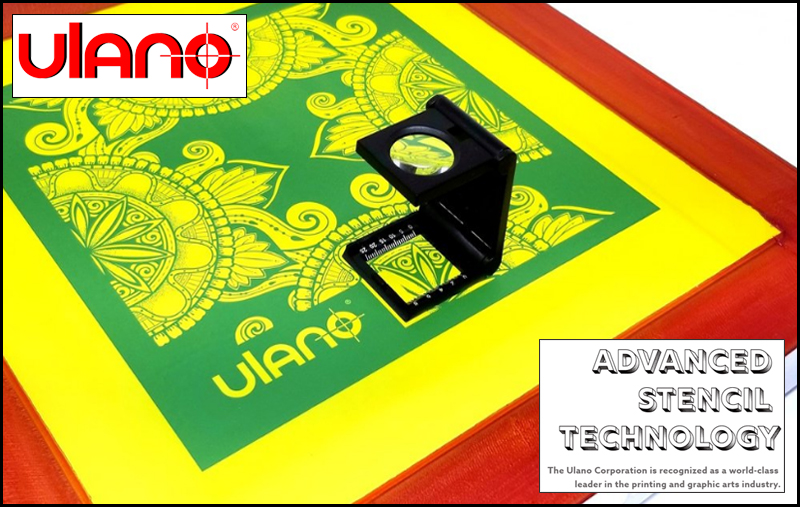 Ulano USA launches new website & Introduce new products
11 January 2021: The Ulano Corporation, USA, has more than 80 years of growth and have always been technologically driven. Now, with its manufacturing and corporate headquarters based in Brooklyn, New York, has launched their new website and range of new products, in line with the changing times.
Recently, Ulano has introduced QTX, a ready-to-use, ultra-fast exposing SBQ Photopolymer Direct Emulsion formulated for imprinted sportswear applications. QTX's high solids content provides superior coating properties, better bridging of coarse mesh and fast drying. Designed for plastisol inks, QTX is extremely durable and reclaims easily.
Ulano'sCDF/QT Thick-Film is being offered for printing with plastisol inks on t-shirts and imprinted sportswear items. Extremely fast exposure times make the QT series suited for use with low power light sources. SBQ sensitized, pink colored films available in 100, 150, 200, 250, 300 and 400µ thicknesses. Adherable with water or QTX emulsion. CDF/QT Thick-Film is ideal for the production of thick stencils for specialty printing needs, including high density, puff, and lenticular effects for imprinted sportswear; peelable solder masks in the electronics industry; false mosaic and leading effects for glass and ceramic decorating; screen printed gaskets and seals; and many other manufacturing and decorating applications requiring ultra-thick ink deposits with non-aggressive solvent inks and pastes.
And, Ulano's QX-7 is a universal SBQ dual-cure emulsion with excellent resolution for industrial graphics and electronics printing (PCB and conductive traces), compatible with UV, virtually all solvent-based inks and some water-based graphic inks.
Another new product is the Ulano Platinum which is a ready-to-use SBQ-photopolymer direct emulsion formulated for imprinted sportswear printing and other markets. It resists plastisol inks-including newer, more aggressive, post-phthalate plastisols-and most washup solvents, making it easy to reclaim in automatic equipment or by hand.
EZ FILM 30 is ideal for standard textile printing using conventional, non-aqueous garment printing inks. It is pink in color and coated on 300-gauge matte-surface polyester. EZ FILM 30 produces superb stencils quickly, consistently, and with no mess or waste. At a controlled-coating thickness, EZ FILM 30's exposure time and ink deposit (with the same mesh count) is always constant. EZ FILM 30 can be adhered with plain water or with QTX® direct emulsion. EZ FILM 30 is sold in convenient prepackaged sheets.
Ulano has also launched 925WR-P & 925WR-P/CL which share the main characteristics of Ulano's TZ emulsions, but with a higher solids content and similar resolution, edge definition and exposure latitude. Stencils produced with 925WR-P & 925WR-P/CL are completely water resistant and very durable. It is recommended for imprinted sportswear applications.
Next comes the Magic Mesh Prep which is a ready-to-use liquid combining the properties of mesh degreaser, wetting agent, and anti-static treatment. Magic Mesh Prep improves the flow characteristics of liquids, facilitating more uniform coating of direct emulsions and the easier transfer of ink during printing, thereby improving printed image quality. The improved wetting of mesh also promotes the adhesion of indirect and CDF Direct-Film (capillary system film), and improves the durability of all stencil systems, for longer printing runs. The antistatic properties of Magic Mesh Prep reduce the whiskering and feathering of ink when printing under low humidity conditions.
Over the years, Ulano gained worldwide recognition within the graphic arts industry with the invention and promotion of the first masking film: Rubylith. Rubylith is used in every segment of the graphic arts and has gained such prominence that the Rubylith® brand has become synonymous with masking film, much as Kleenex is synonymous with facial tissue. Ulano continues to produce and distribute Rubylith products to a broad graphic arts customer base, which includes the screen printing industry. Rubylith brand masking films are "light safe" knife cut films coated onto a polyester backing sheet. These films can be cut manually or on a plotter to produce masks for film contacting and plate making and film positives for photographic stencil production.
Moreover, Ulano has also launched ONYX-E Ink Cartridge line, a series of compatible ink cartridge system solutions for EPSON 1400/1430, 4800/4880, 4900 and P400 printers.
Ulano, represented in India by Skyscreen International, recognized as a world-class leader in the screen printing and graphics arts industry, specializes in the manufacture of stencil-making products and chemicals for screen process printing. The company also supplies masking films, inkjet media, automated coating equipment, exposure test positives, and stencil evaluation tools. Ulano has a modern research and development laboratories, applications laboratories, and a technical training center.
www.ulano.com