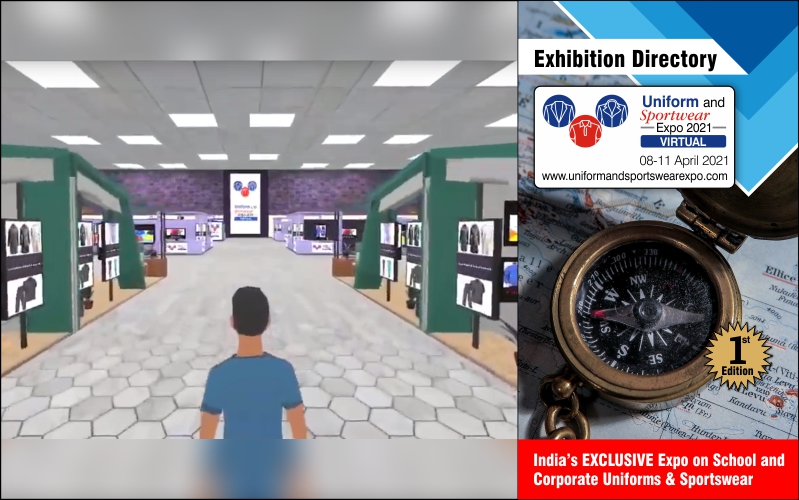 Uniform & Sportswear Expo 2021 (Virtual) makes impressive debut
29 April 2021: On April 8, 2021, a new trade fair made its debut and that too, in an online format that proved ideal for the 'new normal'. Uniform & Sportswear Expo 2021 (Virtual), held over four days, provided a customised platform for showcasing brands, products, machinery and more. Trade shows are an essential component for business interaction and networking and looking at the pandemic situation, Uniform & Sportswear Expo 2021 (Virtual), organised by Aditya Exposition (P) Ltd., fit the requirements precisely.
The online format ensured that the four day event was the perfect meeting point for business and trade visitors related to school, corporate uniform and sportswear industry coming from all over India and also few from overseas. The Expo facilitated the endeavour to connect visitors and exhibitors with the added advantages of safety and convenience.
The digital interface made it a truly lifelike experience for the visitors as they found themselves striding into the venue after cutting the ribbon. Taking in the huge reception area with seating lounge, information desk, event directories right in front to pick up and then seeing the list of exhibitors available at a glance, it felt as close to a physical exhibition as one could hope for.
Moving further, the main hall opened its double doors and the exhibition hall had 24 smartly designed stalls. Exhibitors included leading manufacturers of uniforms for educational institutions like schools and colleges as well as corporates/ businesses, sportswear, activewear, athleisurewear, seeking large orders as well as tie-ups with retail outlets, on-line portals and leading apparel brands.
While the overall uniform and sportswear industry players participated in full strength, there was a noteworthy presence of key brands from the printing industry as well, who showcased relevant machinery. These included Arrow Digital, which highlighted the Kornit range of DTG Printers while Venus Infotech displayed the Epson DTG equipment. Skyscreen International (P) Ltd. presented the STAHLS' USA portfolio of Heat Transfer Films, DTF, GCC Cutters and Azon Printers and J. N. Arora & Co. showcased Siser (Italy) Heat Transfer Films, OKI Printers & Forever (Germany) Transfer Papers.
Each stall had its interactive setup where an online visitor could either download a brochure, transfer it to the virtual briefcase, exchange visiting cards, do a quick chat or even have a detailed video call.
What emerged from the digital interface is that both, uniform and sportswear segments have unique demand drivers and will continue to be extremely relevant going forward as well. Reflecting the credibility of the organisers, the show was supported by two leading industry associations; Screenprinting & Graphics Association of India (SGAI) and The Clothing Manufacturers Association of India (CMAI).
An extensive market awareness drive was carried out using telemarketing and related initiatives as well as by leveraging technology to the fullest extent possible with active presence and updates being regularly posted on social media networks like Facebook, Twitter and LinkedIn.
To help the industry members enhance their knowledge quotient, an informative webinar was also conducted, with the keynote speaker being Jayesh Ganatra, CEO, Unique Creation. He elaborated on the theme 'Opportunities in Sportswear, Uniform Market,' which was appreciated by all those who attended. Jayesh Ganatra's Unique Creation is one of the leading manufacturers of school and corporate uniforms. He has been associated with the industry for over 20+ years and was also 'Lead Partner' for the event. Inkholic Enterprises, which has been recognised by Startup India, was the 'Online Partner' for the Expo. Inkholic's core specialized products are t-shirts, jersey, polo shirts, customised t-shirts and promotional products.
"This sunrise industry has vast scope to increase its share. Most of the players are from the unorganised sector. We envisage immense potential for growth and development. We see Uniform & Sportswear Expo 2021 (Virtual) and Aditya Exposition as catalysts for the transformation of this industry success," said Devang N. Sheth, Director, Aditya Expositions.
Exhibitor's Feedback …..
" Expectedly, the exhibitors were quite pleased with the experience and all praise for the format, which enabled interacting with their target customers without any compromise on the COVID-19 precautions.
"The idea of the virtual expo was fantastic, it was a must, much-needed in such a pandemic situation being faced across the globe. The overall user experience for visitors as well as for exhibitors was seamless. The 3D interface made the expo more realistic. We got good exposure as an exhibitor as well as online partner."
– Deepak Kapure, CEO, Inkholics, Navi Mumbai
"Uniform & Sportswear Expo 2021 (Virtual) was a unique experience. Initially it is hard to acquaint yourself with the new medium but once you start, you get accustomed with the system. The best part is that it doesn't have a geographical limitation. So you can interact with many people. It opens opportunity for both exhibitors and visitors. Overall it was a good experience."
– Anuj Desai, Director, IdeaBazz, Ahemdabad
"The software platform used was very good and the look and feel of the expo was also very good. We have got some good leads and it will take time to follow-up with clients. The positioning of exhibition stall, banners, literature, etc. all the placements were very good. This format is the future and online expo would develop further."
– Ankit Vaid, Director, Behariji Enterprises, Mumbai
"The Uniform & Sportswear Expo 2021 was a good format and I liked the simulation of an actual event. It was a good experience for those participating in a virtual event. The methods of data capture and easy download of analytics, post-event were appreciable. We also lied the smooth on-boarding process and support system."
– Soniya Gore, Sales & Marketing Manager, Uniforms Unlimited, Mumbai
www.uniformandsportswearexpo.com