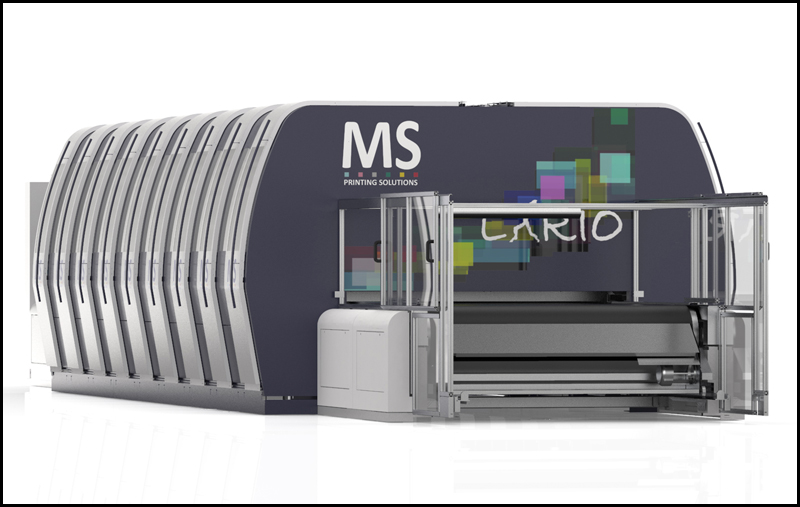 Union Fabrics achieves highest ever production LARIO single pass machine
06 January 2021: Just after a week of installation of MS LARIO, Karachi based Union Fabrics Ltd. broke all its previous production records of MS Print Solutions' digital textile printers in Pakistan. The company achieved highest ever production with MS LARIO single pass machine at 5,5000 linear meter / 11,0000 sq. m. Meanwhile, MS Print Solution's website shows their global achievement of printing 700,161,000+ sq.m fabrics (the count clock is still running on, second by second).
MS LARIO is the first single-pass digital machine in the world, debuted in 2010. It is changing the paradigm of digital textile printing. LARIO challenges the world of rotary-printing machines by reaching a production speed of 120 m/min. LARIO is the option for those producing for the Fashion System, be it Fast or Slow Fashion, which requires short load production times such as 3D materials and promotional, Home Textile, Blinds and Fabrics for furniture and general Fashion items.
MS LARIO comes with Kyocera printheads which are highly robust and designed for textile printing. KJ4B Series is specifically designed for high speed textile printing. The printhead size allows to cover more printing surface in one passage only, assuring higher productivity in order to meet the retailers' demands in which, the production process is accelerated to get new collections into stores more quickly than the other segments. Drops' variable size allows to assure the best balance between productivity and printing definition required in textile printing, ensuring high performance and high speed.
Union Fabrics is a leading name in the export of quality home-textile fabrics and made-ups from Pakistan. They are producing wide range of fabrics for various related industries such as bedding, institutional, pocketing/lining, mattress ticking and furnishing, in greige (loom-state), bleached, and finished form. Its processing plant has a capacity of 2.2 Million Meters per Month. They have 12 colors Flat Bed Panel Printing Machines as well that have an operational width of up-to 3.2 meters.