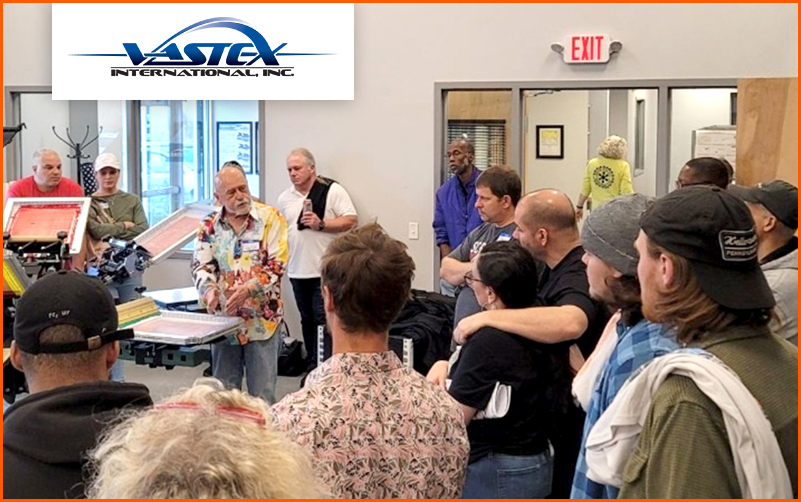 Vastex International's First 'Open House' Receives Excellent Response
18 November 2022: On 12th November 2022 Vastex International Inc. conducted its First Open House in its new factory in Bethlehem, PA and was a big hit. It was also attended by leading textile printing consultant Charlie Taublieb of Taublieb Consulting.
Charlie Taublieb showcased many new textile printing techniques at the Open House with the help of Vastex Machines and printers were very much happy to share there insight with him.
Mark Vasilantone, President, Vastex International Inc. was very much happy with the response received and said "First open house in our new factory in Bethlehem, PA, USA and it was a big hit. I'm so proud of my team who worked the Saturday open and everyone else who make it happen everyday. Thanks Vastex team, I am so proud of what we build together.'
Since 1960, Vastex International has been a leader in the design and manufacturing of world-class quality screen printing equipment. Vastex manufactures heavy-duty manual screen printing presses for starting shops to high-volume commercial printers, infrared conveyor dryers, flash cure units, screen exposing units, screen drying cabinets, washout booths and complete screen printing shop systems, and offers a comprehensive range of training classes for entry level, intermediate and advanced screen printers. Vastex equipment now operating in 50 countries.
While the company remains at the forefront of the heavy machinery market for high volume printers, it has incorporated many attributes of this equipment into a new, separate line of entry level machinery, enabling smaller, lower-volume shops to achieve precision results while remaining competitive.
The company has also expanded its Vastex University educational department, offering what has become the nation's widest selection of screen printing classes geared toward the differing needs of beginning, intermediate and professional screen printers.
In 2018 Vastex moved from its Allentown, PA location into its new manufacturing facility and world headquarters in Bethlehem, Pennsylvania. The new building is designed from the ground up for manufacturing efficiency and expands the space available for new product development, administrative offices, conferences, an equipment showroom and a large hands-on classroom area with a full complement of screen printing equipment for Vastex University.
Built with a break-out wall, the building is situated on a double-size lot of 8.25 acres, facilitating another expansion when the company again reaches capacity.
www.vastex.com