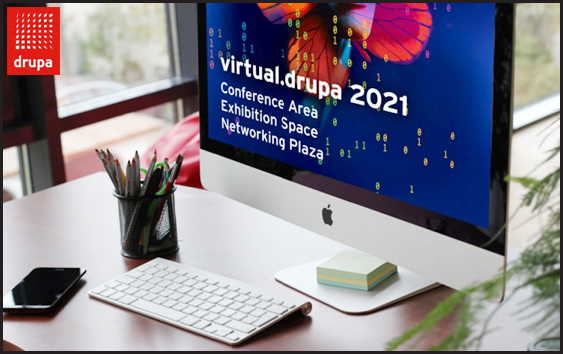 virtual.drupa: Exciting Product Innovations in Exhibition Space
09 April 2021: From April 20-23, 2021, the global printing and packaging sector will meet at virtual.drupa https://virtual.drupa.com featuring the three segments "Conference Area", "Networking Plaza" and "Exhibition Space" to promote knowledge transfer and networking and to activate business. The Exhibition Space will reflect the diverse technologies and applications along the entire value chain of the printing and packaging industry and will give visitors a comprehensive overview of the product portfolios and innovations of the exhibiting companies.
Visitors can use the navigation in the Exhibition Space to quickly find the exhibitors they are interested in. In addition to direct entry of the company name, the search can be filtered by product category or country to obtain a relevant selection of exhibitors.
The individual exhibitor profile provides information on the company, contact persons, products, services, innovations and presentation formats. At this point, direct contact can be made with the exhibitor via a digital business card or via matchmaking.
Exhibitors have the opportunity to interact with the community in live web sessions and present their content to a broad audience. Visitors can get an up-to-date overview of the various presentations in the event database, where they can filter by event time slots or topics. Exciting content can be expected, such as the potential of digital printing applications and automated workflows, innovations in flexo and inkjet printing as well as sustainable packaging solutions. The virtual.drupa event partners will also make major contributions to this: Leonhard Kurz, DuPont de Nemours, efi, Kodak, Komori, BlueCrest, CloudLab, Fujifilm, Hybrid Software, Koenig & Bauer, Mimaki, OQChemicals and Xeikon. All live web sessions will also be available later on demand in a video library to make the content accessible to visitors who cannot attend live due to time differences.
Visitors already have the opportunity now to take a look at the current exhibitor profiles and orient themselves for virtual.drupa. Together, the companies represent the diversity of the industry in their online showrooms and web sessions.
https://virtual.drupa.com