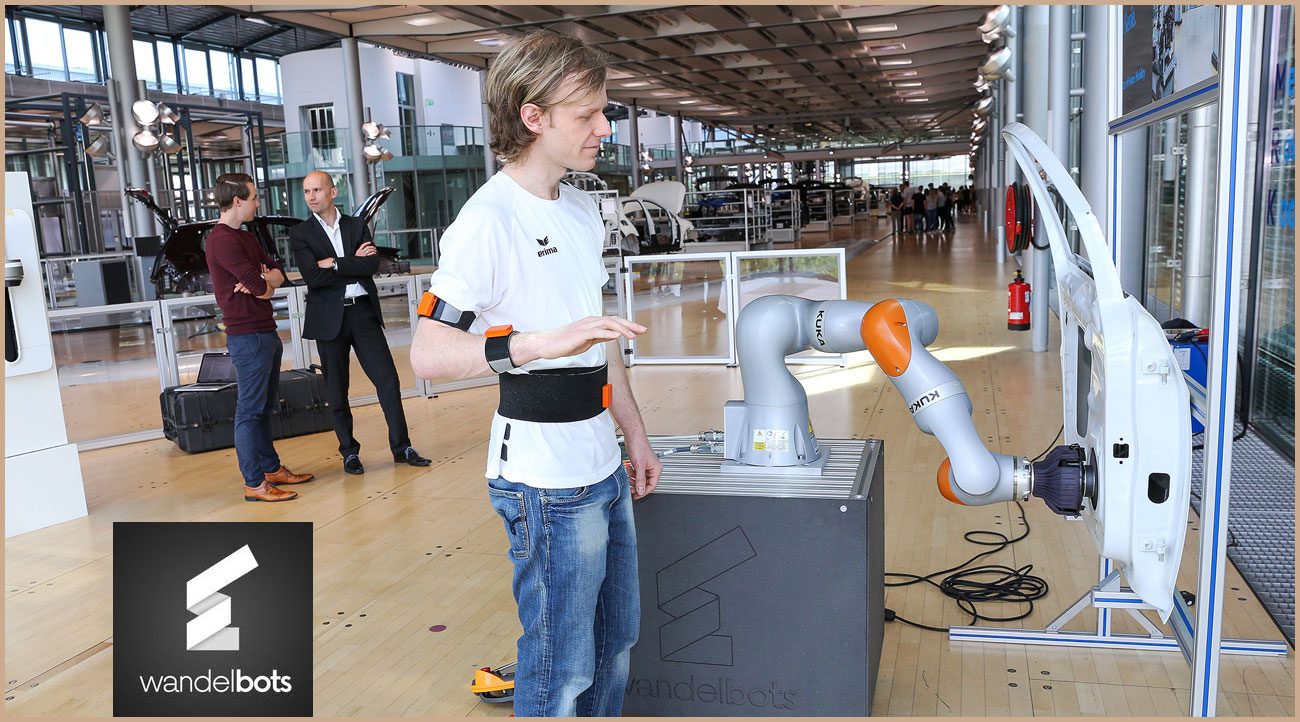 Wandelbots Smart Jackets : Apparel teaches manual tasks by demonstration
Wandelbots, the Germany-based start-up company has recently raised $6.8 million to fund its new project – a smart apparel capable of demonstrating to robots how to perform manual tasks. Recently, the company has launched a smart jackets which are used by Volkswagen and Infineon in their product assembly and logistics. The sensor-embedded garment can monitor how a task is performed. Wandelbots designed smart jacket equipped with sensors to live control the robot participating in final vehicle assembly at Volkswagen's factory.
With demonstration-based teaching, robots can be programmed without writing a single line of code. The task experts are able to teach robots even in dynamic and complex environments. By showing the robot how a certain task shall be performed, the concrete control program is learned and automatically generated. While teaching a certain task, the sensors of the robot as well as available external sensors capture the properties of the environment. During operation the robot can adapt to changing situations automatically.
Using a software built by the company, a person wearing a jacket fitted with dozens of sensors can now program the actions of robots from the 12 most popular industrial robotics makers. Wandelbots has created a Linux-like underpinning to all of it.
Wandelbots was founded by Piechnick alongwith Georg Püschel, Maria Piechnick, Sebastian Werner, Jan Falkenberg and Giang Nguyen on the back of research they did at university. They are of the view that typical programming of industrial robots to perform a task could have in the past taken three months, the employment of specialist systems integrators, and of course an extra cost on top of the machines themselves. Someone with no technical knowledge, wearing one of Wandelbots' jackets, can bring that process down to 10 minutes, with costs reduced by a factor of ten.
Marco Weiß, Head of New Mobility & Innovations at Volkswagen Sachsen GmbH, said: "Wandelbots' technology opens up significant opportunities for automation. Using Wandelbots offering, the installation and setup of robotic solutions can be implemented incredibly quickly by teams with limited programming skills."
Christian Piechnick, CEO of Wandelbots, explains, "We have developed a universal language for robots based on smart clothing. Anyone, regardless of their technical or cultural background, can now teach any robot in the most natural, intuitive way – by demonstration."
www.wandelbots.com