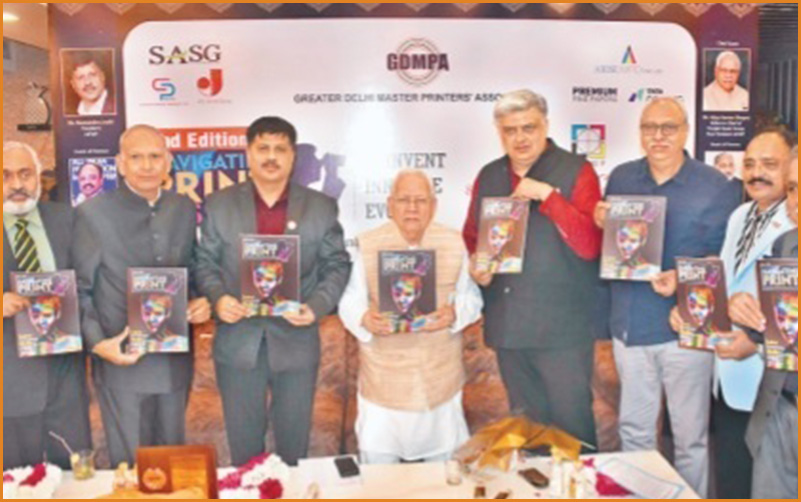 Women's Partnership in Printing Business Should Increase: Vijay Kumar Chopra
18 October 2022: While the printing industry itself has progressed there is still a marginal gap in the traditionally male printing industry. For many women – who find themselves on the cusp of embracing new careers in printing – the path in front of them can look daunting; if not a bit frustrating.
At a function of Greater Delhi Master Printers Association (GDMPA), Punjab Kesari Group Chairman Vijay Kumar Chopra said women partnership in printing industry should increase. He said that although there are women in printing industry in India, their number and contribution should be more.
Vijay Kumar Chopra was the Chief Guest of the GDMPA function. On this occasion he was specially honoured for his achievement and contribution to the printing industry. On this occasion the 'First Edition' of GDMPA Bulletin was also released. It may be noted that recently the new Managing Committee of All India Federation of Master Printers (AIFMP) formed with Ravindra Joshi as its President. Joshi was present at the GDMPA function.
Vijay Kumar Chopra congratulated the new President of AIFMP and his newly elected team. Vijay Chopra was President of AIFMP for the period 2004-05. He said "I was honoured as being the President of AIFMP and I was able to visit the printing industry all over India and was able to share the experiences with fellow printers."
He further said "To solve the GST, pollution related issues, we should call the Chief Ministers, Central Ministers and concerned officials. Printing industry in India is giving employment to over 1 million people. We are also contributing in large amount by way of revenue to the Government. He also asked printers to move with the changing trends in printing industry by adopting new Technology and Innovations."
The function was also graced by past Presidents of AIFMP such as Subhash Chander (2008-09), Prof. Kamal Chopra (2016-17 & 2020-21), (Also president of World Print & Communication Forum). Other dignitaries present included: Col Comdt Professor Dr Rajendrakumar Anayath, Vice Chancellor, DCRUST University Haryana, and Dr. Arun Kumar Agrawal, President of GDMPA.
The function was also attended by Printers and Industry colleagues from JN Arora Group and Naraina Industries Association, Delhi. They were honoured with momentous.