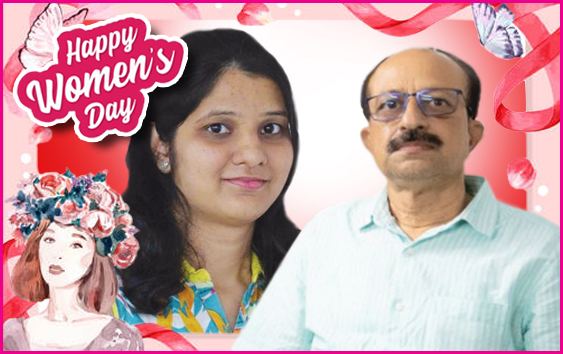 Women's Special: Mrunal Bhagat, SportPrints – Take business to the next level
08 March 2021: Sport Print commenced operations in 1992 with special focus on textile screen printing and digital printing. Taking inspiration from his father, Harish Bhagat started a T-Shirt printing unit in Mumbai. Although the company still operates its 500 sq. ft facility at Mahim, Mumbai, they have set up a new 3,000 sq. ft. production unit at Bhiwandi (Thane). Sport Print undertakes textile printing on job work basis for corporates, brands, online market, besides their regular portfolio of sportswear printing for various sports leagues, schools and college sports.
Mrunal's grandfather had worked as a printing supervisor in a textile mill. Mrunal holds a Diploma in Fashion Technology and MA in Archaeology. She is passionate about exploring different aspects of culture and technology. It is laudable that being a daughter, after studying fashion designing, she decided to join her father's business. Over to Mrunal:
Growing up around our family's business in the clothing industry, especially the textile printing was an integral part of my childhood. Thus, opting to study fashion was a natural choice for me. After finishing my Diploma Course in Fashion Technology, I worked as a 'Fashion Designer', 'Fashion Merchandiser' and later joined Marathi Newspaper 'Loksatta' as Fashion and Lifestyle Reporter.
Textile printing especially the screen printing process has lots of potential. We also work with upcoming artists and designers who are exploring online platforms for good quality t-shirt selling. At the very beginning of their business when less quantity of production becomes a hindrance for them, printing techniques such as DTG provides them with a big relief.
The issues I faced in my earlier days, I won't call them difficulties. Rather, those issues helped me to communicate with my employees better and understand their perspective. In this industry, the majority of work including colour mixing to printing t-shirts requires physical skill sets. Of course, I will not claim I am expert in printing but that gave me and the confidence that I understand the physical and mental mindset involved in the process.
I completed one year of my marriage last November and my career never became an obstacle between us. Even though we had arranged marriage, we had throughout communication about my involvement in business thus my life partner supported my passion.
Clothing industry and understanding human culture around it was always my passion. So I would be associated with this industry in some or the other way. I always wanted to be an entrepreneur so I have considered opening a fashion boutique or merchandising unit as an option.
COVID-19 and the lockdown came as an unexpected obstacle to everyone. So many factories got shut down permanently or temporarily. Employment suffered. But this situation came as a new hope for female leadership. Today, with the help of social media, many women groups came forward to support the economic balance of the family. It may be work from home or online work; women were able to test their potential in this lockdown.
Until now, families were considering selling home-cooked food or kitchen services could not become career options. But just look around you, with the help of social media like Facebook, WhatsApp, food service businesses started from neighbouring kitchens. Many women, who were homemakers till date, used their skills in the kitchen to help the financial conditions of the family. This is just one example but in all industries, women's responsibilities increased during the lockdown. Still, they accomplished their goals without complaining.
I feel COVID-19 gave a chance to women worldwide to understand their abilities and utilise their strengths to the fullest. The screen printing industry is no exception to that. Earlier women were not considering this industry as a career because it involves physical work. But with technical advancement, this industry has changed a lot and became more women-friendly.
Harish Bhagat, underlines, "Daughters of the family can be part of the printing business. Today, with the mechanical and technological advantage this industry has become more advanced. The messy, untidy picture of the factory unit of printing has changed now. It has become more user-friendly and clean. The involvement of women in the workplace helps in changing the attitude of male employees. Even female employees from factories feel secure if the management level has the involvement of female leaders."