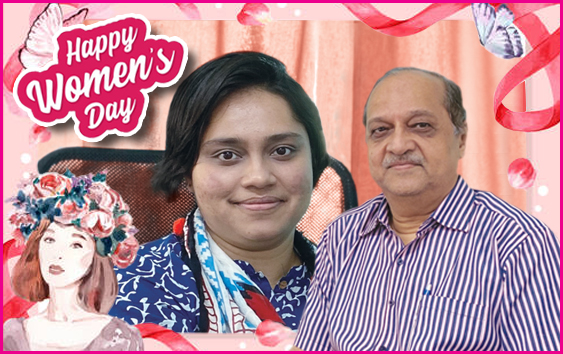 Women's Special: Vrushali Sharma, Maharani Technologies – Strong foundations and multi-tasking
08 March 2021: Maharani Technologies came into existence in 2015. However, the founder has over 33 years of expertise in the field. Being one of the pioneers in the manufacturing of customized membrane keyboards, the company manufactures a wide range of membrane keypads, membrane switches, soft-touch keyboards, flat profile keyboards, tactile keyboards, flexible keyboards or thin keyboards. These are supplied to a variety of OEMs from medical industries, weighing industries, textile industries, instrumentation industries, controller manufacturers and service industries.
Vrushali holds a Master's Degree in Industrial Psychology with special focus on detailing, creativity, empathy, research, lateral thinking and she also has developed leadership skills along with applying heuristics and financial discipline. She is a brand invigorator. Her hobbies include travelling, horse riding, google reviews; she is interested in being relevant, counselling, athletics, digital branding. Over to Vrushali:
After my Masters, I joined my father's business because it gave me ample opportunities and freedom to put my education and skills to best use.
Screen printing is a revolution and an ocean of opportunities which provides numerous ideas and creativity flow. The printing process even though automated, creates many job opportunities and job choices. It's a perfect place to apply creativity and innovative ideas.
Almost all industries in India are male-dominated and there were initial teething troubles. However, knowledge of human behaviour and learning printing from the best, my father, my foundations became strong. Now I am very well accepted in the industry. My life partner encouraged me to continue my father's business. If not printing profession, my career choice would easily be a fashion designer or fashion stylist.
COVID-19 has made us realize what is important in life. Now we always bid goodbye with a 'take care'. We have found closeness in social distancing. During WFH, women who have multi-tasking abilities have outperformed. Hence, I believe, there will be more opportunities for women because they have learnt the skill of managing work and home from home itself. Many women have utilised their cooking skills and started profitable food-related business.
Pankaj Jambusaria, emphasises, "We belong to a country where a girl child was not welcomed at all. Today females stand shoulder to shoulder alongside males. I wholeheartedly support the movement of Beti Bachao Beti Padhao initiated by our government. I have implemented this by providing my daughter not only a good education but also by allowing her to handle our family business. Honestly, I am a proud father today. I don't differentiate between a son and a daughter and why limit ourselves only to the printing industry? I feel that a daughter can excel in any field of life, just like a son. As far as success is concerned, I feel that she may be better than me as she is attending the areas left out by me."