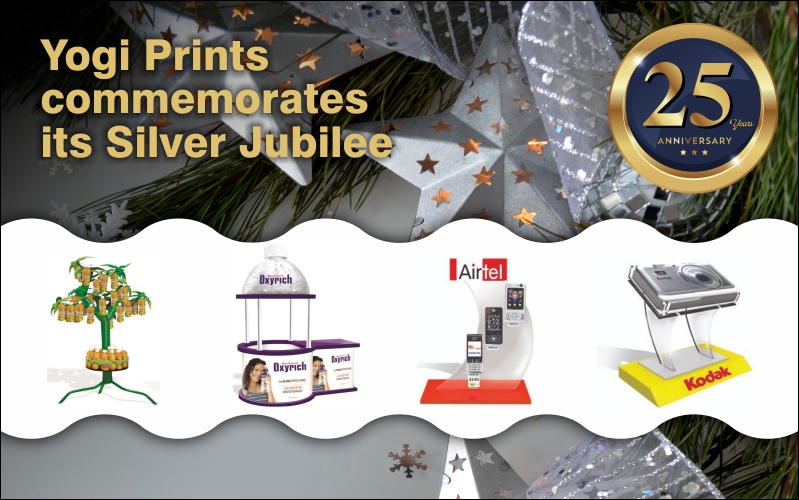 Yogi Prints commemorates its Silver Jubilee
31 August 2021: Built on the three pillars of innovation, solution and implementation, the Navi Mumbai-based company has completed 25 years since its inception. Established 25 years ago, Yogi Prints has gone from strength to strength under the able leadership of founder Ravi Phulsundar. The company started out as a graphics design studio and then, one by one they added new departments and transformed into a multi-faceted organization: complete pre-press house, digital laser printing facility, POP material production house, UV screen printing facility and digital solvent printing.
Recently, they have added new concepts of digital UV printing on specialized printing on rigid material like glass, ceramic tiles, laminates for furniture, acrylic, ACP panel, fabric, PVC board, Sunpack, Sunboard and also on wallpaper. Clients can get their own creative image or select from the available collection at Yogi Prints.

They have top quality imported and the best of Indian machineries to offer quality printing services. Yogi Prints provides a quality assurance with required warranty, because they deal with the world's best material making companies.
Yogi Prints also has a complete fabrication setup to produce any kind of 3D (three-dimensional) creative object, which may help you to decorate your interiors. To accomplish the same, they have die punching machine, laser cutting, laser engraving, CNC router, 3D forming for PP, HIP, ABS, PVC, acrylic to get the 3D product for home interior, commercial offices, advertising as well for industrial use.
The professional experts at Yogi Prints will give the right solution; the client relation team will take care of specific requirements and support. Technical and experience skilled staff will provide the best quality product with cost-effective solutions. They have trained members working with the company to fulfil quantified requirement in time.
The dedicated team at Yogi Prints has successfully completed many prestigious projects, such as Amul – Ice Cream, ITC – Bingo Launch Print, South Africa School Charts, Airtel – All India ITP Project, Kodak – Camera Display Rotating Stand, Coke – Bottle Hanging Racks, Hawkins – All India cut-out Standee, Reliance – Big TV Launch glow sign box, IDEA – My Idea Shop Furniture, Mobile Charger, Table Top Dispenser, Cipla Product Dispensers, Tata Indicom – POP, shop branding and many more.
Going forward, Yogi Prints is looking to tap the growing opportunities that emerge in the organised retail segment. After all, the leading FMCG brands have to ensure their presence in supermarkets and this is one area where design and printing on different substrates plays an important role in attracting the customers. It has been noticed several times that an undecided prospective customer can be convinced to purchase a product as long as the branding has been done in an eye-catching manner and smartly designed format. This opens up tremendous scope for Yogi Prints and with the organised retail boom predicted across India, the demand for Point of Purchase branding is bound to increase exponentially. The ability to facilitate creative designs is another advantage that Yogi Prints possesses and this, combined with the advanced machinery, gives it a strong edge in the market.
A memorable journey ….. Ravi Phulsundar, founder, Yogi Prints, traces the origins and evolution
How has the company transformed over the past two-and-a half decades?
Yogi Prints has evolved and grown over the past two decades; there were some challenges and opportunities at each stage of the journey. Ups and downs were the part of past experience. Having work experience of advertising field with all big corporates helped us to come back on track again. Now there are lots of changes taking place, there are opportunities in market with upcoming technology for printing, displays and types of advertising. We have to update with time, accept the change of industries and society. That is the reason we are adding few other services in our portfolio, to provide multiple solutions to our client.
What are your views about printers choosing between screen printing and digital printing ?
You can't stick with one type of printing. You will have to have multiple solution providing facilities and strength to service. Traditional screen printing jobs are slowly converting into digital process. This helps to reduce the manpower, wastage, time and increases the margin. We believe that digital is the future of industries.
What are the printing machines and other equipment that Yogi Prints has invested in ?
We have recently invested in digital printing and screen label printing machines.
How would you describe your management style and approach towards managing your team ?                                                                        We keep our staff updated with the knowledge of our products, market demand and client's requirement. We always motivate them, which helps both, organization and staff to grow. Client service is the key of success and that is dependent on quality manpower.
How has the pandemic affected your business and what are the strategies that you have adopted to adjust with the 'new normal' ?            The pandemic has really affected our business badly, because our main business was to deal with corporate for commercial advertising displays and promotional products. Because of the pandemic and lockdown period, the industry stopped spending funds for promotion, which affected our industry. Now things are changing slowly. This coronavirus period was the lesson for POP product making industry. We have learnt a lot and added few more new products to our portfolio. Let's hope for a better tomorrow.
www.yogiprints.com