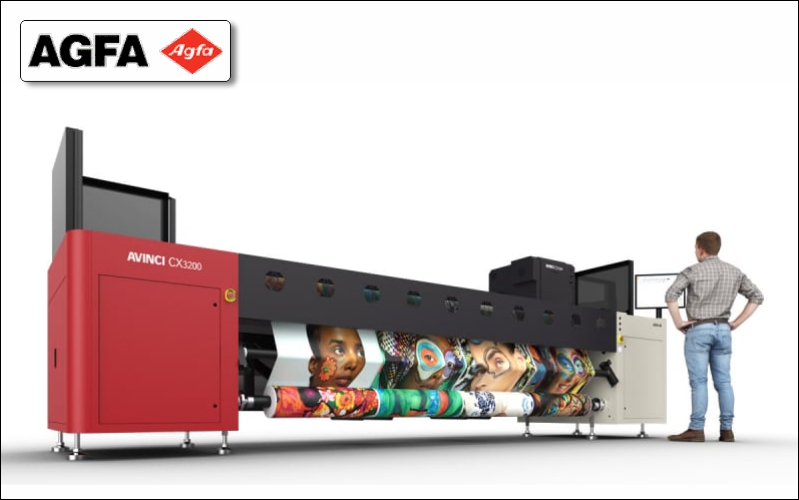 Agfa's New Avinci CX3200 Printer expands into soft signage
12 June 2021: The New Avinci CX3200 is a dye-sublimation roll-to-roll printer that can print either directly to textile or on transfer paper. It delivers high productivity and a consistently vibrant print quality on a wide range of polyester-based fabrics.
The Avinci CX3200 engine enables sign printing companies to create textile prints of up to 3.2 m wide at a production speed of up to 270 m²/h. The engine uses eco-friendly, odorless water-based dye sublimation inks to print either directly to fabric or to transfer paper.
Being able to print directly to fabric is easy and ideally suited for fast handling of soft signage applications such as banner displays, wall graphics and point-of-sales or trade show displays, as well as for special applications requiring print-through, such as flags. Transfer paper, in turn, allows for super sharp prints, eliminates any set-off, and limits media waste to a minimum.
The Avinci CX3200 guarantees a wide and vibrant color gamut, outstanding tonal rendering and fine detail reproduction. The dedicated dye-sub inks stand out through their flexibility, and outdoor resistance. They deliver a stable jetting performance and the same first-rate quality batch after batch. An offline calendering unit effectively fixes the colors after printing.
Philip Van der Auwera, Wide-Format Marketing Manager at Agfa, states "The market demand for soft signage keeps growing, as it is lightweight, resistant to wrinkles and folding, and easy to transport and reuse. The Avinci CX3200 will meet the needs of existing textile printing companies, as well as enable sign & display printers to diverge into textile printing and bring in new business."
The new Avinci CX3200 is a solidly built, reliable engine that can handle any job from a single print to sizeable runs in a 24/7 setup. It is equipped with Kyocera water-based print heads that will cover the printer's entire life cycle. The strong pre-heater limits drying time and reduces set-off, while the vacuum make sure that thin transfer papers are kept perfectly wrinkle-free.
www.agfa.com