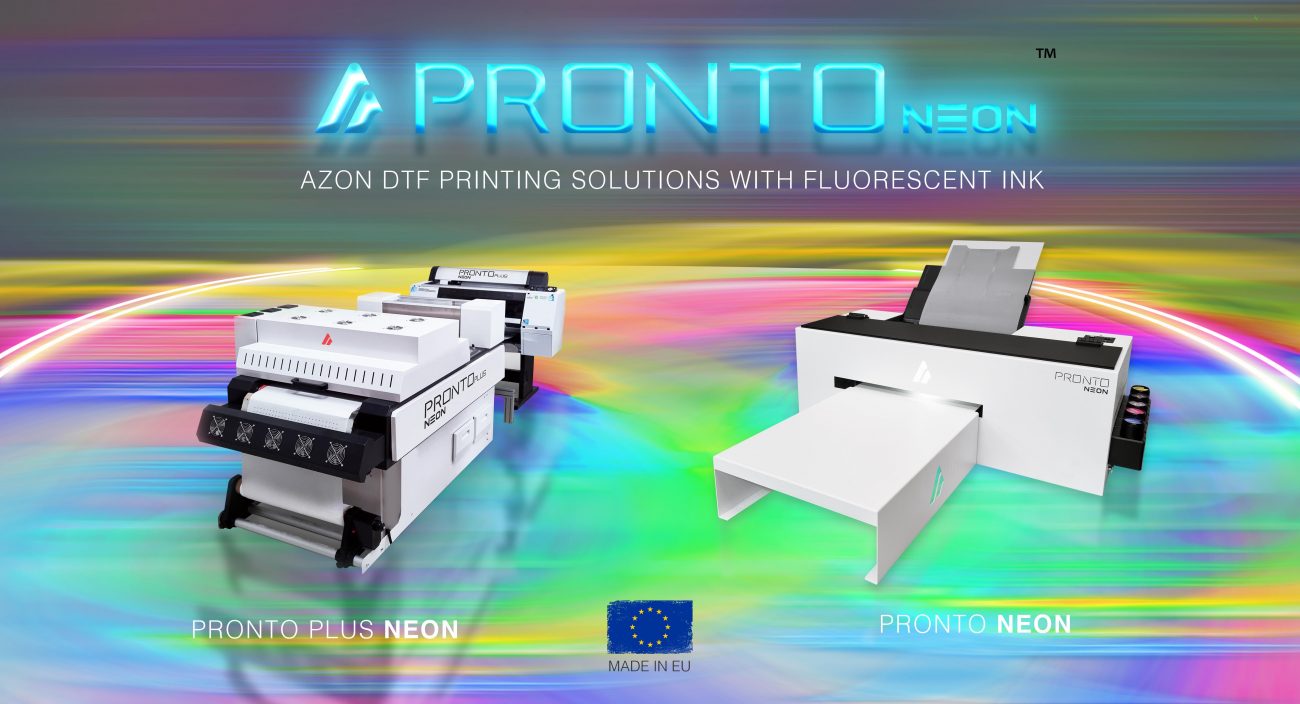 Azonprinter's New DTF Printers for Desktop Solutions
06 October 2021: Azonprinter of Croatia has recently introduced two new solutions in their DTF family – Azon Pronto Neon and Azon Pronto+ Neon. The A3 size DTF Azon Pronto Neon can now print more colorful and fluorescent graphics which are glowing in the dark. Instead of magenta and yellow ink, the printer is using fluorescent yellow and fluorescent magenta.
Except A3 size, Azonprinter also launched A1 roll to roll Azon Pronto+ Neon. This printer is using the same ink configuration – cyan, fluorescent magenta, fluorescent yellow, black and white ink. The size of the roll is 60 x 100cm.
Azon Pronto supports range of printing supplies:
– All Azon Pronto supplies cerificated with CE
– Various types of powders (white and balck)
– Hot and cold peel DTF transfer film
– Different DTF transfer film formats
CONTI Ink System & Circulation
Handling the inks was never easier, clean and simple. Azon CONTI continues ink supply, allows for the printer to be refilled with ink during the printing operations which translates to zero time loss during the refill.
– 500 ml. bulks with
– Built in white ink circulation
Cost Effective, Low Maintenance
Azon Pronto is carefully designed to reduce maintenance to a minimum. With Azon RIP software each print will be produced in a quality way beyond any competition, but still every aspect of the print will be optimised in order to make it cost effective.
– Low Maintenance
– Super low power consumption
– Self preservation function
– Lower print cost
– Plug & play
Azonprinter is well-known to design long-lasting products and that stays true to the traditional Azon design identity. There new products have a timeless design, stylish lines of traditional Azon products, whilst also allowing for the housing of new technology.
www.azonprinter.com