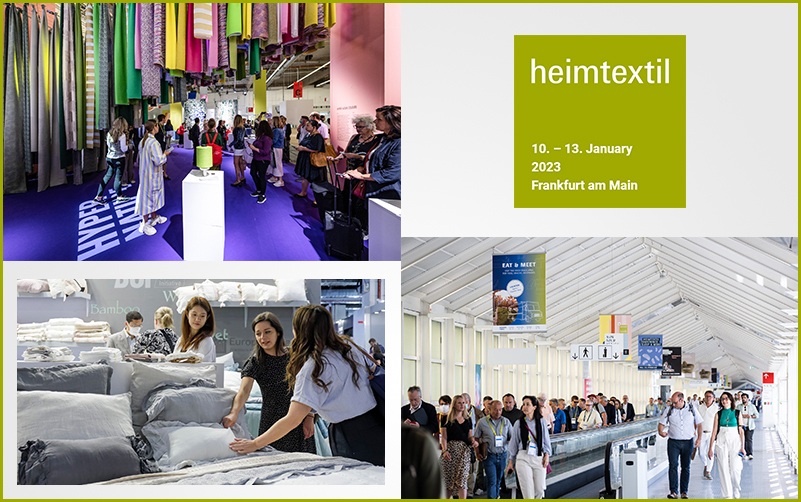 Back on track: Heimtextil 2023 Experiences Strong International Demand
26 July 2022: During the Heimtextil Summer Special that just ended, the industry's great need for personal encounters, tactile impressions and creative input became apparent. This time, there are only a good six months until the next Heimtextil, from January 10-13, 2023. The leading international trade fair for home and contract textiles will be the first event of the year to kick off the next season.
Demand from exhibitors is strong and once again covers the entire spectrum of global suppliers of home and contract textiles. Over 2,200 international exhibitors have registered for the event. This corresponds to around three quarters of the number of exhibitors at the pre-pandemic Heimtextil 2020. Only the Chinese suppliers are still struggling with planning uncertainties. The internationality of the event is also remains high.
It was already clear after the last Heimtextil Summer Special that the industry is meeting the current market challenges with a great desire for inspiration and new approaches to solutions, as well as the creation of new customer relationships all over the world. Heimtextil 2023 provides the perfect range of relevant market players and complements the benefits for buyers with an extensive supporting program.
Highlights at Heimtextil 2023
Thematically, the overarching theme of sustainability will also be clearly visible at Heimtextil 2023. With the exhibitor guide, "Green Directory" as well as the "Green Village", that offers a platform for discussion with the seal providers, Heimtextil offers important points of orientation in the jungle of the many sustainable offers. The popular trade fair tours "Green Tours" will also once again take interested visitors to curated exhibitors to learn more about their sustainability strategy and their products. Last but not least, the impressive "Future Materials Library" will be presented again as part of the Trend Space at Heimtextil 2023.
A new feature is that the Trend Space will be presented in Hall 9.0. There, the spectacular design and trend area will stage the Heimtextil Trends 2023/24, which will be developed beforehand by the international design agencies stijlinstituut amsterdam (Netherlands), FranklinTill (Great Britain) and SPOTT Design & Business (Denmark).
Interior.Architecture.Hospitality, the specialist program for interior designers, architects and hospitality experts, will once again take place at Heimtextil 2023 on a large scale and in the usual high quality. The program includes the Interior.Architecture.Hospitality LECTURES, in which renowned architects and well-known hotel experts will present their work and discuss current industry topics such as sustainability, as well as the Interior.Architecture.Hospitality TOURS, which will take participants to curated highlights and innovative textile solutions from the contract sector.
www.heimtextil.messefrankfurt.com