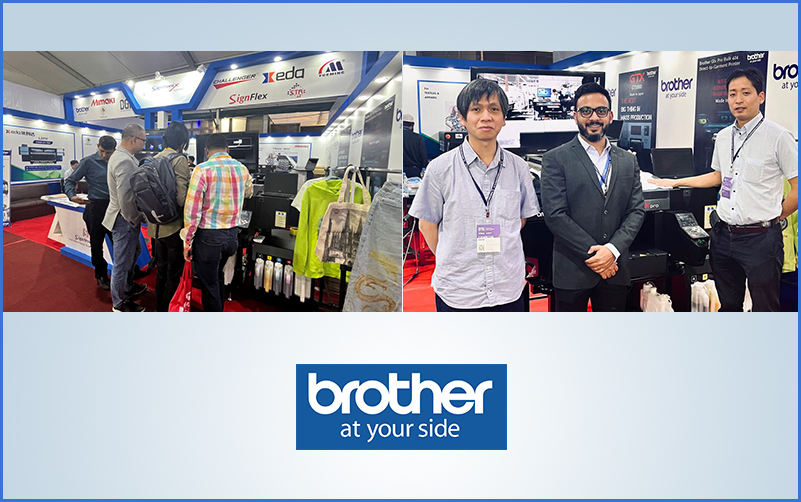 Brother DTG Printer Shines at DTG 2023 Expo, Bangladesh
15 March 2023: Brother International Displayed GTX 424 pro bulk (Mass Production and Flexibility Combined in ONE Machine) for the first time in Bangaldesh market in DTG 2023 Expo which was held at ICCB, Dhaka from 15-18 February 2023. Brother participated with their Bangladesh Distributor Signtronix.
Brother Team from Japan, India and Hongkong attended the Expo and interacted with visitors and explained Advantages of Brother DTG Printers. Live Demo and Sampling were being done at the stall and visitors were impressed with the print quality and faster production.
"Brother has already sold 3 DTG units in Bangaldesh and with the participation and Live Demo at DTG 2023, we are looking forward to move forward in the Bangladesh Textile Printing Segment." said Santosh Jaiswal, Sales Manager at Brother DTG.
Brother's Distributor Signtronix has a fully equipped 'Demo Centre' in Dhaka and interested customers can visit the centre and learn about the latest developments in DTG technology.
USP of GTX Pro Bulk …
– Instant Print: Send orders out to customer with minimum lead time.
– No Minimum Print: You can easily make profit even from small-medium jobs.
– Print Samples Easily: Print a sample garment instantly for your customer.
– Print on Various Garments: Print the same design on different sized garments without additional cost. Sell more products. Grow your business.
– Easy to Maintain: A new design making it easy to clean and remove dry ink along with more durable parts.
– Cutting-Edge Features: An innovative print system equipped with an all-new cooling system, built-in humidifier, etc.
santosh.jaiswar@brother.in