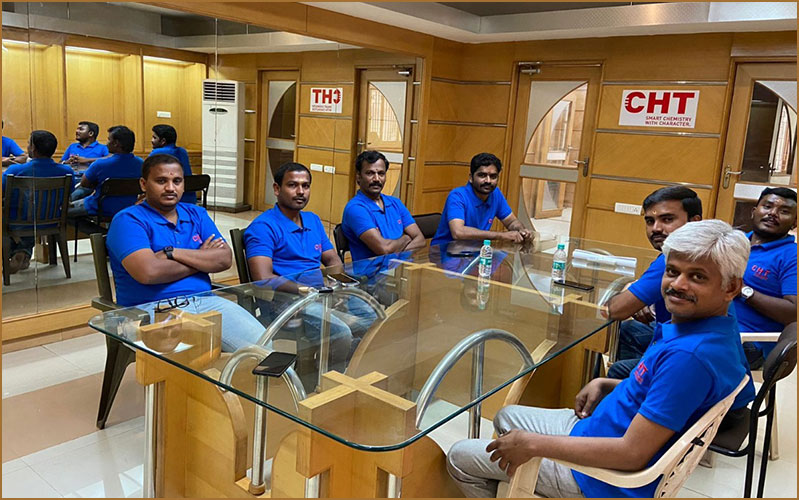 CHT India Opens Tirupur Branch Office
30 August 2022: CHT Team in India has announced the opening of their new branch office at Tirupur, Tamilnadu – India's Textile Hub – in order to cater to the increasing demands of its customers. They have assured that the same quality of service and deliver will be maintained there, everything that their customer network needs.
Manoj Shetty, Managing Director, said, "This new expansion has been made possible by our business partners' immense support and continued interest in our innovative and sustainable products. We wish to be at the receiving end of the same even in the future. CHT India (P) Ltd. was incorporated in 1996. We manufacture products which add value to different kinds of textiles. Our products are applied in pre-treatment, dyeing, finishing, textile printing, flocking of surfaces as well as textile coating."
Apart from the market for textile auxiliaries, CHT India has a significant presence in the markets for textile care and General Industries. Its strengths are very experienced application chemical technologists spread across India, hand in hand to support customers. The modern manufacturing facility at Taloja is spread over 20,000 m2 and is ISO 9001 and ISO 14001 certified. Fully supported with a state-of-the-art textile application centre, highest standards of quality control, and an efficient supply chain, CHT India is continuously committed to offer the best service and value to its customers.
CHT Group subsidiaries and offices are located in 20 countries on all continents. Together with a global network of highly professional partners, they provide all their products and services in over 120 countries.
The highest demands on the quality of their products, maximum safety and careful handling of the environment have always been central concerns of the CHT Group and determine the company policy as well as the strategic planning. The Group's global sites are extensively certified to international and national standards. Both technically and in terms of the qualifications of the workforce, they are ideally equipped in all regions worldwide.
www.cht.com