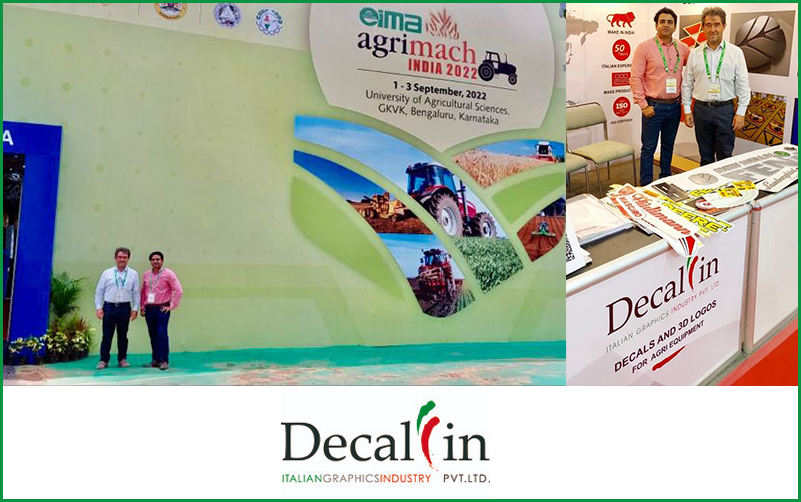 Decal In Showcases Decals for Agriculture Machinery at 7th EIMA AGRIMACH INDIA '22 in Bengaluru
29 September 2022: Pune based Decal In Italian Graphics (P) Ltd. recently participated in 7th EIMA AGRIMACH INDIA 2022 , 01-03rd September 2022 held at University of Agricultural Sciences, GKVK, Bengaluru. The company showcased their range of decals and 3D logo offering for the agriculture equipment sector. The Group's Italian President Fausto Mazzali visited the Decal-In's stall at EIMA Agrimach India.
Organized jointly by FICCI, FEDERUNACOMA in partnership with Ministry of Agriculture and Farmers' Welfare and Indian Council of Agricultural Research.
Decal In's parent company consisting of 3 companies, viz, 76 Industrial Graphics Evolution, PrintabLED and Decal-In. They are specialized in industrial screen printing, decals large-size decorations, three-dimensional logos, UV LED technologies for printing sector.
Decal In offers a complete series of solutions for the decoration of industrial vehicles. Decal In's products are of high quality, resistant and durable particularly suitable for external applications. Decals for decorating industrial vehicles in all shapes and sizes. Decal In produces decals and decorations for industrial vehicles with the best and most innovative technologies in the graphics and industrial printing sector through the use of traditional screen printing machines, digital thermal transfer and ink jet printing.
The company produces large-size decals and decorations of all types for tractors, agricultural machines and earth-moving equipment, excavators, lift trucks and cranes for trucks. Decals In supplies decals to agriculture equipment OEMs for use in tractors, combine harvester, seeding machines, haymaking, fertilization, irrigation equipment, round balers, mowers, cultivators, agri-garden machines. The company also supplies its decals to road and construction equipment sector such as forklifts, telehandlers and frontal elevators, loaders and construction machineries, loaders and construction machineries, compact truck loaders, etc.
www.decal-in.com