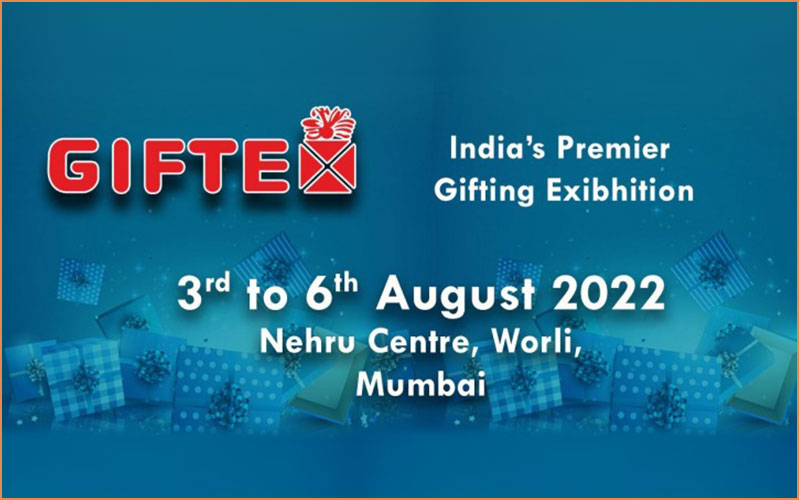 Giftex is Back …. India's Premier Gifting Trade Show will be held from 03-06 August 2022
12 March 2022: Giftex is back. Trade & Technology Exposition Co. (India) (P) Ltd. is inviting exhibitors to revive their business with the new normal at Giftex 2022, from 03-06 August. Giftex was first launched in 1988. This annual event is held at Nehru Centre, Mumbai. At this exhibition, bulk orders are booked. The mission behind the launching of Giftex, was to create a common platform as a meeting place for sellers and buyers of Gifts and Stationery.
Top reasons to exhibit are to affiliate with the ever-expanding regular as well as corporate gifts market, identify new business opportunities, launch new products, meet your buyers face-to-face, enhance your image, build network and partnerships, evaluate the competition and the market.
Manufacturers, resellers, exporters or importers, suppliers or dealers of products or services from the following segments should exhibit at Giftex: Gifts, Novelties, Trophies & Mementos, Promotional Products / Apparels, Leather Goods, Bags & Travel Accessories, Crystalware, Glassware & Cutlery, Electronics & Electrical Gadgets, Houseware, Home Décor, Artifacts, Hospitality / Barware Products, Plastoware, Gift Boxes & Packaging, Stationery, Perfumes & Aroma Products, Office Equipment, Bed Linen & Towels, Personal Hygiene Products & Health Equipment, Handicrafts, Gold / Silverware, Packaged Food Products, Chocolates / Dryfruits, Tea, Food Hampers, etc.
www.giftex.in