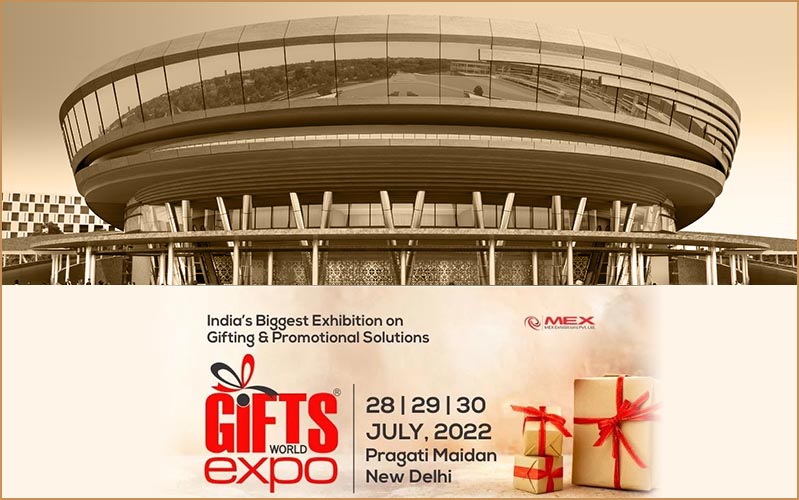 Gifts World Expo 2022 to Take Place on 28-30 July '22 at Pragati Maidan, New Delhi
07 April 2022: From corporate rewards to social causes, gift exchange helps in strengthening the bond of care, brotherhood, friendship and relationship at individual levels and institutional/organisational levels. According to TechSci Research's recently released report, gifting market in India is projected to surpass $159 million by 2025.
Against this opportune background, MEX Exhibitions (P) Ltd. will be organising Gifts World Expo 2022, India's Biggest Exhibition on Gifting Solutions, on 28-30 July '22 at Pragati Maidan, New Delhi. The show will be held in Hall No. 3, 4, Ground Floor, covering an Exhibit Area of 1,50,000 sq. ft. Over 350 are expected to showcase their products, featuring around 1,000 brands/10,000 products.
Presenting Gifts has become a way of expressing gratitude, encouraging business deals and generating goodwill among employees and clients. Moreover, the right choice of gifts serves not only as a promotional and advertising tool for the brand persona of the company but also shows concern and empathy towards an individual.
According to a recent trend, receiving a personalised gift meant that the person who gave it to them put a lot of thought into the gift as well as it was meant to make them feel special. So, there are different segments within the gifting industry, such as Corporate Gifts and Promotions items, Celebrations, Special occasions and Festive Gifts. Etc.
According to the organisers, the Bengaluru edition of Gifts World Expo 2022 will take place on 8-10 September 2022 at Tripura Vasini, Palace Grounds, Bengaluru.
www.giftsworldexpo.com