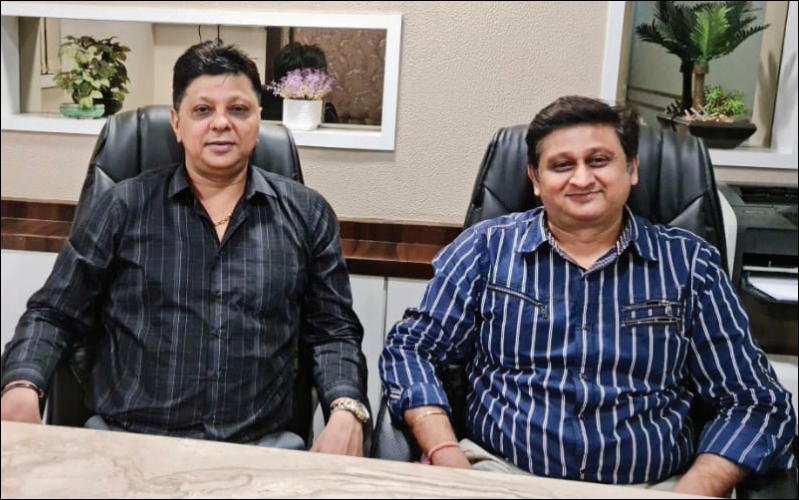 Hi-Definition Prints achieves major milestone
28 August 2021: Considered leaders in textile heat transfer industry, the company, headed by the brother duo of Narender Sabloak and Napti Sabloak has been operating for over a decade and now looks forward to many more accomplishments.
Hi-Definition Prints was established in 2010, they are the subsidiary company of Kosmopolitan Enterprises catering to the needs and demands of the garment industry by supplying quality heat transfer stickers. Their transfers are used in a wide variety of garments stretching from t-shirts, ladies fashion wear, jerseys, undergarments, denims, track pants, tennis balls, etc. Their state-of-the-art manufacturing unit at Vasai, Mumbai, is equipped with the latest printing machineries having a capacity to print 5-7 million labels per month depending on the design.
The company's vision statement is as follows: As a socially responsible entity, we want to scale newer heights of infinite opportunities to archive customer delight while fostering environment of partnership, trust and commitment. Its mission statement is: To be a global supplier and a cost efficient Manufacturing Enterprises maximizing value to our customers, through superlative performance by ensuring best in class quality product, on time service and a balance pricing.
Napti Sabloak, Director, emphasizes, "At Hi-Definition Prints, we understand the challenges faced by the garment manufacturers and exporters in bringing the product to point of sale and the importance of supporting you with reliable and efficient management of your requirements. From initial developments to the bulk production, our goal is to simplify the entire process so that the labels are always produced in the fastest possible time scales. By providing technical guidance and a suite of development services, we help ensure correct and timely interpretation of your briefs while the combination of robust systems and effective planning allows us to provide best in class production lead times through our manufacturing unit."

Their goal is to be the best in the business. Napti Sabloak, points out, "Being the pioneers in the garment industry, we understand the industry intrinsically. Our sharp focus is on every aspect of the manufacturing process, product development, stringent quality control and compliance enable us to maintain the highest quality of product and services. We are driven by excellence and believe it is the cornerstone of everything we do. We strive to break new ground while continuing to ensure our products are made with the highest level of quality and integrity. We believe in our people and our parents who bring in strong sense of unity as we work towards a common goal weaving excellence for the industry."
Narender Sabloak, Director, shares details of the aspects that set Hi-Definition Prints apart
What is your USP ?
In this niche competition era of business, every organization is constantly working hard to have its own USP, so is the case with us. We are constantly upgrading ourselves with the latest technology and innovation coming up in the market and dare to invest in the early days of innovation before it becomes common to the general public.
We have a clear vision and a horizon how to cater to the demands of the industry and we try to foresee the products, which could be a hit in the market in the near future. Thus we take up the challenge and put our courage to invest in the latest technology.
Moreover, we never compromise in our quality, though there are many products available which are akin to the best and available at a very cheap rate. We believe in using the best of the best raw materials, be it from screen making prepress to printing and packaging. We do not negotiate on quality thus 'our quality is our USP.'
What is your attitude towards awards ?
Frankly speaking, being in our nutshell we have never participated in any kind of competition. Our best awards are the confidence and the trust we have created in the minds of our clients that includes big corporate houses like Raymond, Siyaram, Arvind, Reebok Adidas etc. The relentless service and the continued support of our clients since decades are our real awards and rewards.
What is the overall infrastructure ?
Keeping in mind the future prospects of the printing industry, we have added one more manufacturing unit at Vasai other than one at Malad. We have taken up a bigger factory of more than 6,000 sq. ft. and have added printing ATMA machines to increase the production. We have demarcated areas for our accounts staff, the designing team, R&D team, quality control and the production floor so that the workflow of every department goes hand in hand and functions smoothly. We have a dedicated team looking after R&D and developing new products to cater to the fast moving fashion industry.
What are the lessons learnt from pandemic ?
The COVID-19 pandemic has demonstrated the need for all organizations to be able to weather major unforeseen disruption. Organizations that are able to absorb and adapt to the challenges of the pandemic successfully are by definition resilient. Many find themselves making decisions at a speed which would have been unthinkable in pre-Covid times. Now as organizations recover from COVID-19 there are changes underway that might become permanent. Some traditional ways of doing business have changed and some of these changes may be more effective than the old approach. It is important to learn from pandemic and embrace new ways of thinking.The most important lesson taught by COVID is to value your loved ones. Monetary gains and losses are a part of life, but the real value of life is to give time and attention to your family and dear ones. In this era many have lost their family members, neighbours or friends, we express our heartfelt gratitude towards the lost ones and hope life once again bounces back to normal prosperity.
How do you see the future of screen printing in the next 10 years ?
We at Hi-Definition Prints believe that Indian print industry is yet to arrive at its most elevated pinnacle. It is headed to delivering pearls for the coming time and we are very optimist for a bright future ahead. With the global community now condemning China and Chinese products, countries are now shifting their manufacturing hubs to developing countries like India, Brazil and Vietnam. Many printing items as well as transfer stickers, which were hugely imported from China have taken a backseat and the Indian manufacturers now stand a chance to substitute them with our ingenious products. We stand a high chance to penetrate into the markets where China was once a dominant player. But to make India a global hub, we would have to invest heavily on new techniques and embrace latest technology prevalent globally. Efforts are on to produce world class products at an affordable price.
www.hidefinitionprints.com