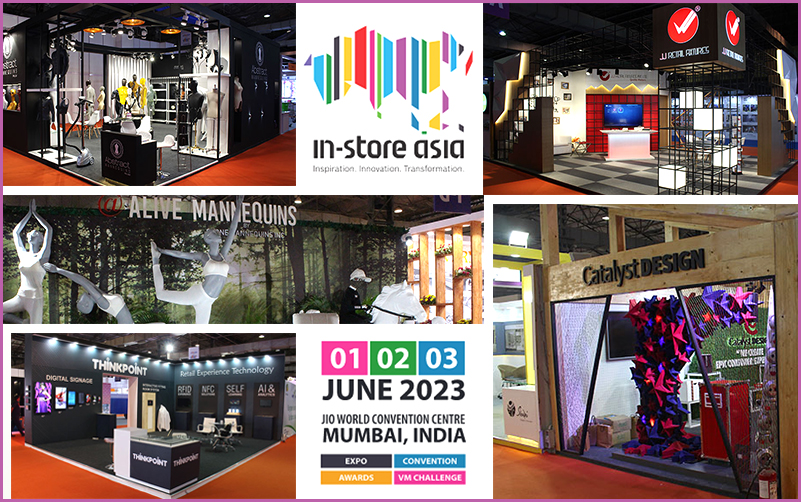 Instore Asia 2023 – Leading Expo on Store Design, VM & In-Store Marketing
05 January 2023: In-store Asia 2023, its 14th edition will take place at Jio World Convention Centre (JWCC), Mumbai, Maharashtra from 01-03 June 2023.
In-Store Asia is the largest trade fair in the Indian subcontinent for retail resources and investments in store design, VM and In-store marketing. The Expo bring together all leading retail solution providers from India and beyond under one roof, Convention discussing topics on currents trends of Indian retail industry and the VM&RD Retail Design Awards & VM Challenge, which recognizes talent in retail design and visual merchandising.
In-Store Asia is a part of EuroShop trade fair family, The World's No. 1 Retail Trade Fair and is thus part of the world's largest network of events for the investment needs of the retail industry, offering optimum access to the most promising future markets in this sector. The last edition of the event in 2022 witnessed the presence of 100+ exhibitors showcasing their products and services to 7,500+ visitors and 250+ conference delegates.
USP of 'In-Store Asia' ….
– Only focussed exhibition for the retail designing solution providers in India
– Lots of opportunities in the new age offerings in all the domains, more specifically in Retail Tech, Digital Signage, printing and other new retail design segments
– A well-known platform for exhibitors to get associated with and meet the desired top most brands
– Well appreciated by the visitors from top brands
– High level onsite engagement through allied events – Conference, VM&RD Awards, VM Challenge
– Allied events are equally engaging for exhibitors as well as the buyer's segment
– Well connected to the retailers from Asia Pacific Region
www.instoreasia.in