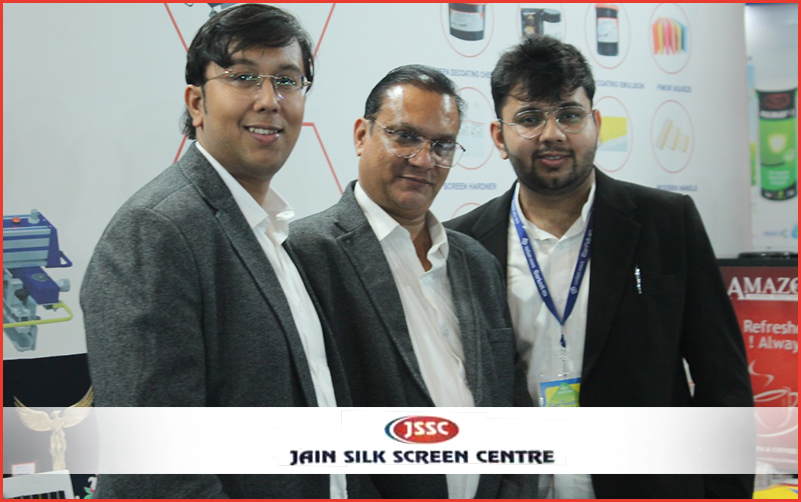 Jain Silk Screen Centre is Expanding Business in North East Region
01 December 2022: Jain Silk Screen Centre, Kolkata, one of the leading screen printing materials suppliers in North East Region received very good response at recently concluded Garknit X 2022 Expo. Akash Jain, Director of Jain Silk Screen Centre said "We are promoting Umrao's New Textile Screen Printing Machine & Bharat Fushing Textile Printing Machines in North East Region.
On the outcome of the exhibition, Jain said, "Overall the show was good. This time, the organisers have ensured that there are only quality trade visitors. As a result, we could spend quality time with the prospective buyers, clarifying their doubts with technical information. A trade show like this boosts our brand image and connects with new prospective customers. We have received good response for Bharath Fushing'sproducts and for all our other regular products. As per the feedback of the visitors, the market is looking for innovation and some new concepts. On the inks side, in textile printing water-based ink is now mostly preferred while plastisol ink also has its own market."
He says that DTF is something which gives garment decorators an innovative way of producing transfer stickers for short and volume requirement without much hassles. While heat transfer stickers produced by screen printing process has its own role, DTF has opened up new market opportunity, and in the process DTG is losing its importance.
Jain Silk Screen Centre has been in the screen-printing materials' business for the last 35 years. They have a 12,000 sq. ft. warehouse and a sales and marketing office, besides a corporate office in Kolkata. In addition to materials supply business, the company also deals in textile screen printing machinery (Umrao and Bharat), sublimation printing, DTF and other related equipment.
While updating on the Nepal garment printing market, Jain said "Earlier Nepal used to import finished garments from India, Bangladesh, Korea, etc. Now, the trend is shifting towards local manufacturing of garments. There are few dyeing and spinning mills, aided by garment printing units. Hence there are requirement for garment printing machines and materials. We as supplier have the responsibility, not only to supply them quality materials but also guide them with all technical knowledge and innovative ideas in garment decoration."
The company is expanding its business in the North East Region with their core team : Akash Jain and his two sons – Aakarsh and Akshay. The company has also set up a sales office in Nepal along with a local partner.
www.indiamart.com/jain-silkscreen-centre/profile.html