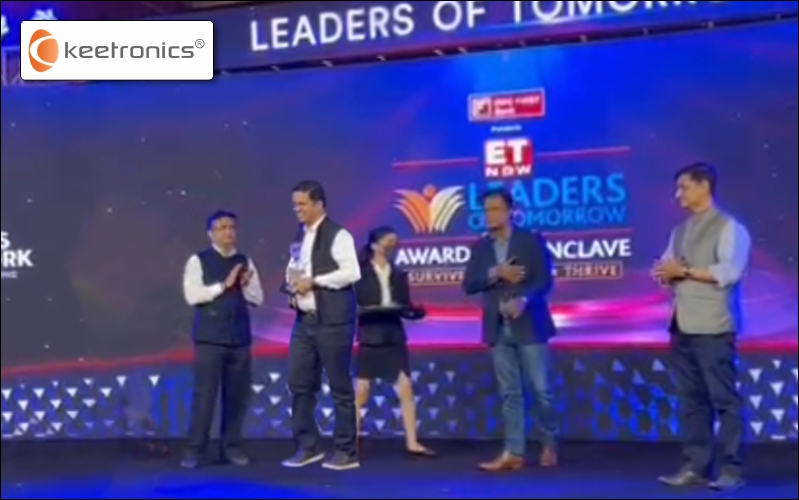 Keetronics bags two awards at 'ET NOW Leaders of Tomorrow Awards' – Leaders of Tomorrow and Entrepreneur of the year under MSME category
18 September 2021: Keetronics India (P) Ltd. has maintained its award-winning streak and taken the noteworthy plaudits to an even higher level by bagging dual honours at the 'ET NOW Leaders of Tomorrow Awards.' Keetronics has over 28 years of experience in engineering and manufacturing customised inputs devices for human and machine interface by providing functional and aesthetic enhancement solutions for the industry. Visionary entrepreneur Rajesh Kulkarni and his team of engineers have sound experience in manufacturing membrane keyboards.
This year, the Leaders of Tomorrow Awards & Conclave, Season 9 focused on the theme 'Survive. Revive. Thrive.' – saluting those businesses which have survived the worst of the pandemic to emerge stronger. The award ceremony was conducted at Le Meridien, New Delhi and was live telecast on the ET NOW Channel as well as on You Tube. In addition to the fantastic list of winners, business and govt. leaders who fought the economic crisis and set new benchmarks, the presentation ceremony had key policymakers, India Inc. heavyweights and thought leaders speaking on top-of-the-mind issues.
Rajesh Kulkarni, Founder and Managing Director, Keetronics, said, "We have been presented with two awards – Leaders of Tomorrow and Entrepreneur of the year under MSME category. We appreciate this recognition and believe that this accomplishment will surely inspire countless others from within our printing industry and beyond to also raise their quality benchmarks still further."
Crediting the Keetronics team for their sustained performance and dedication to work, which enabled the brand to shine even during the pandemic crisis situation, he emphasised that now it is the time for the printing industry to shift gears from survival to revival and extend horizons. There are manifold opportunities for those willing to go the extra mile and invest for a better future with an emphasis on superior machinery and manpower, he said.
Celebrating the success stories of India's most innovative SMEs and start-ups, the Leaders of Tomorrow Awards are highly coveted and respected. India's largest platform for entrepreneurs.
Some of India Inc's most visible luminaries joined a grand jury round Former Country Head, HSBC – Naina Lal Kidwai, Former MD, Mahindra & Mahindra – Pawan Goenka, Co-Founder & CIO, True Beacon & Zerodha – Nikhil Kamath, MD, Vinati Organics – Vinati Saraf Mutreja, Serial Entrepreneur, Investor Partner, Growthstory.in – K Ganesh, Head – BSE, SME & Startup – Ajay Thakur, Chairman, Persistent Systems- Anand Deshpande, President, ASSOCHAM & MD, TCI – Vineet Agarwal, Vice Chairman, JBM Group – Nishant Arya.
www.keetronics.com