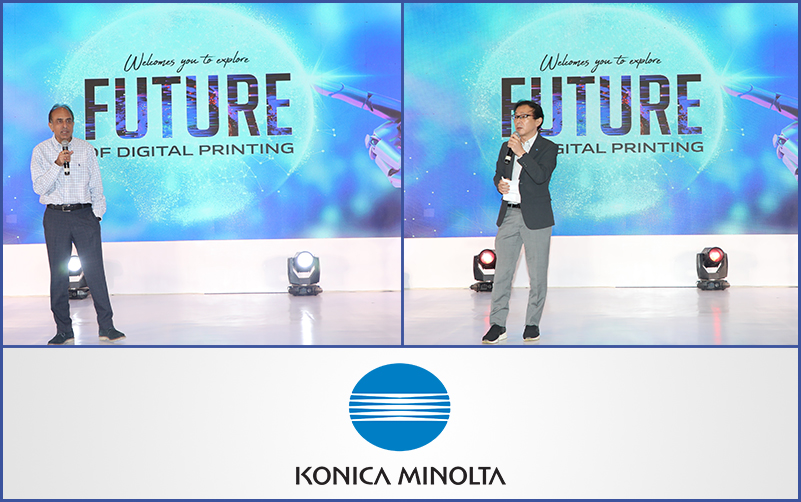 Konica Minolta Business Solutions India (P) Ltd. Organises Customers Meet in Chennai
22 August 2022: Konica Minolta India, a leading name in providing digital transformation solutions & services, organized a South Region production printers' customers meet in Chennai earlier in the day. With this event, the company aims to strengthen its relationship with its existing customers while evaluating and expanding its regional footprint.
This meet, attended by Konica Minolta India customers, was the first company's physical event in the post-pandemic times. Other than the customers, the event also witnessed the presence of company leadership, including Managing Director, Katsuhisa Asari and Kuldeep Malhotra, Deputy Managing Director, Sales Division & Office Marketing along with other Leadership Team.
Speaking about the partnership Katsuhisa Asari, Managing Director, Konica Minolta India said, "It was exciting to be part of this event. Meeting with our loyalcustomers and listening to their success stories gives us immense pleasure and a sense of satisfaction. During this meet, we discussed the latest technologies and innovations in the production printing segment."
Konica Minolta has been sustaining more than 50% market share in the Production Printing space for more than 10 years. With the Indian economy growing, Konica Minolta is excited about the growth of the production printing in India.
"The last two years of the pandemic were difficult for all ofus, majorly because we were not able to meet our customers in person. Now that things are going back to normal, we thought it would be the best time to organize a meet. Hence, the event. During the meeting, we held talks around the economy, the printing sector, innovations in the segment, and areas where Konica Minolta can contribute or improve its existing services. We are taking away some great pointers that will further help us in re-aligning our business in the near future," said Kuldeep Malhotra, Deputy Managing Director, Sales Division & Office Marketing, Konica Minolta India.
The meet was held at ITC Grand Chola, Chennai.
In recent years, the printing industry has evolved dramatically, creating a path for modern technologies that expedite operations and deliver high-quality prints. On the customer side, their demands are also shifting. Konica Minolta India has developed offerings withintegrated workflows and accessories to automateprinting solutionswhich saves time and able to meet print requirements of the customers.