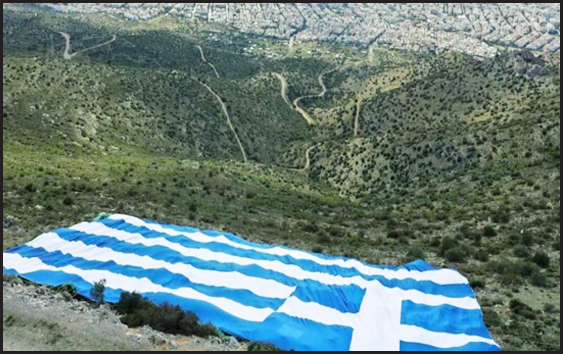 Largest 4,000 sq. mtr. Greek flag printed on EFI Reggiani POWER 340
01 April 2021: The largest Greek flag till date, measuring 4000 sq. mtr. was printed on EFIReggiani POWER 340 on 100% polyester fabric by Zampouris S. A. to celebrate Greece's 200 year Greek War of Independence (against the Ottoman Empire) anniversary on March 25, 2021, the largest Greek flag – four times larger than the one that was placed on October 28, is now waving at the highest point of Mount Hymettus. The flag is visible from everywhere and at night it is illuminated.
Commenting on their customer's achievement, "We are proud that #EFIReggiani POWER 340 printed the largest Greek flag to date: 4,000 square meters," says Micol Gamba, Business Development Assistant presso Reggiani Macchine S.p.A, adding, "We congratulate Zampouris team and their CEO Anastasios Zampouris for this national importance milestone."
A group of people from Santorini, led by Giannis Sykiniotis, raised money to put their idea into practice and to make this flag a successful project. With the help of a large crane, the flag was mounted at a height of 50 meters, while at the same time French Rafale fighters will fly over the island.
Zampouris SA, the owners of EFIReggiani POWER 340 which printed the 4,000 sq.m Greek flag, is focused on new printing technologies with innovative products and integrated services for large format digital printing and printing materials. After six long months of waiting due to Covid-19, their second EFI-Reggiani POWER 340 was put into full operation and is already printing orders for abroad.
EFI POWER 340 digital soft signage printer is for extreme soft signage producers who want to reign over the display graphics market with high rates of speed and extreme efficiency for direct printing on fabric and paper. And with the ability to print on a wider range of materials and 100% penetration on both sides of the material, extreme pros looking for more capacity and faster throughput can now print with power.
Some of the applications are: Table throws, Short-term promotional tents, Backdrops, Hanging banners, Wall murals, SEG backlit graphics, Stretch fabric exhibit graphics, Promotional flags and banners, National flags, Retail fixtures.