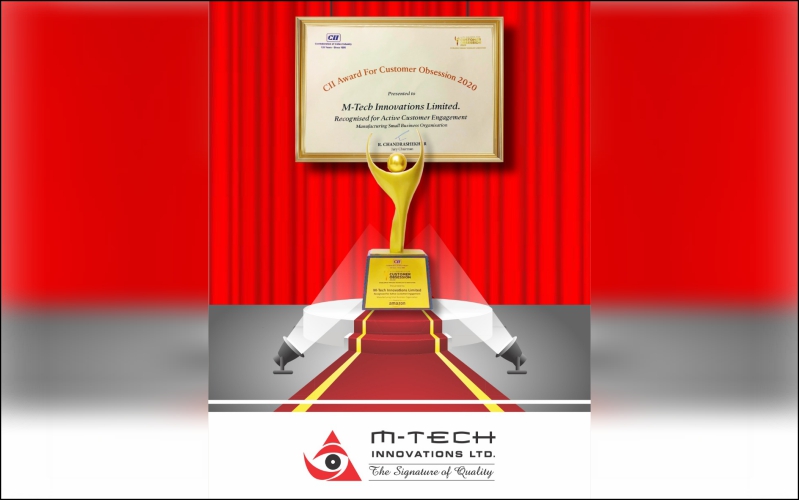 M-Tech Innovations honoured with 'CII Award For Customer Obsession 2020'
20 May 2021: M-Tech Innovations Ltd, accredited as a leading and certified RuPay, Visa and MasterCard manufacturer from India, offers high tech and end-to-end solutions, was recently honoured and conferred with the 'CII Award For Customer Obsession 2020.' Confederation of Indian Industry (CII) in 2016, institutionalized 'CII Award for Customer Obsession' for promoting a Customer Obsession Culture among Indian Industry.
The award recognises customer centric organisations. The program also helps organisations to understand various elements that are critical for delivering superior customer experience across the value chain. The award program is based on the requirements of the 'CII IQ Excellence Framework for Managing Customer Experience'.
M-Tech Innovations offers products that cater a wide range of industries like banking, telecom, automobile and electronics industry. The company certified by ISO/ TS 16949: 2009 offers automotive division manufacturing of automotive dials, IMD panels and membrane keypads. Their banking products, smart card solutions and the automotive products are preferred by various industries in India and abroad.
Vijay M. Gandhi, Chairman & Managing Director says "We are thankful to CII for this recognition of our focus on customer delight and the sustained efforts by our team to ensure the same. We will always strive to live up to this honour and raise the bar further as we move forward."
The Assessment for this award is carried out based on the requirements of the CII IQ Excellence Framework for Managing Customer Experience and Scoring guidelines.
The comprehensive, rigorous assessment is designed in line with internationally practiced assessment processes, further strengthened by leveraging the vast experience of CII in administering different awards including the CII-EXIM Bank Award for Business Excellence in India since 1994.