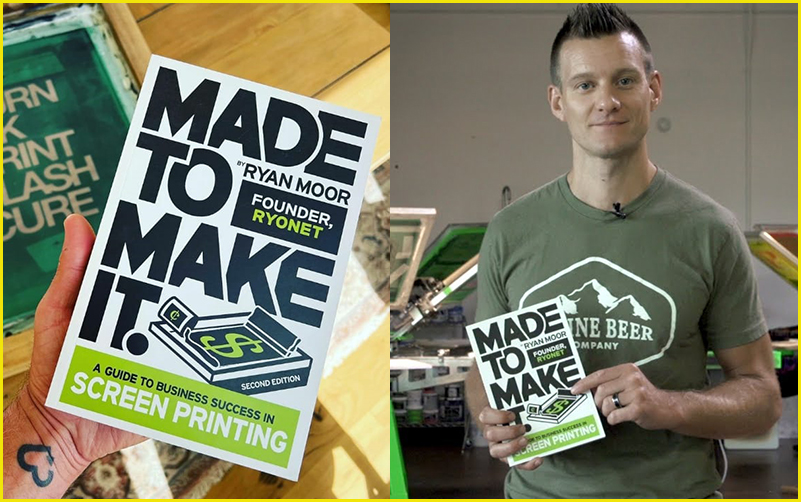 'Made to Make It' Book by Launched – Ryan Moor Authors a Comprehensive Guide on Screen Printing Business Success
12 September 2022: 'Made to Make It' is a book authored by Ryan Moor, founder of Ryonet, aimed at empowering screen printers. The book is your guide on how to set up your business and infrastructure, choose and chart a course for the right team, determine your pricing and channel strategy, target and market to the right customers, select materials, supplies, and equipment, develop the right customer service processes, build profitability and long-term financial security.
Dave Logan, President of CultureSync and Co-Author of Tribal Leadership, describes it as "Part how-to, part self-help, part autobiography, this book is a collection of what inspires Ryan, and he offers it in the hopes it will inspire you, too. It did me."
As Ryan Moor explains, "Like many of you, I never dreamed of being in the screen printing business growing up. I learned how to screen print in high school and sold my t-shirt for my band "Not Long After" in 1999. Fast-forward 17 years, and now I'm at the helm of one of Inc.'s fastest growing companies and one of the top 1,000 ecommerce businesses in the U.S., Ryonet."
"I got here through a lot of trial and error, but you don't have to! I've put together a comprehensive guide on how to start, market, operate and grow a successful screen printing business of your own, along with a series of exercises. Big, small, online, brick and mortar – Made to Make It has something for you. So, let's make it happen, together."
Made to Make It can be purchased at amazon.com and at screenprinting.com. Once you own a copy, a free .pdf download includes all of the great exercises, explanatory tables, and graphs from the book. Along with Made to Make It, they'll give you everything you need to start.
The booklet is designed to give you a place to draft out your business vision, values, niche, customer profiles, marketing campaigns, org chart, shop layout, and personal development plan.
www.madetomakeitbook.com