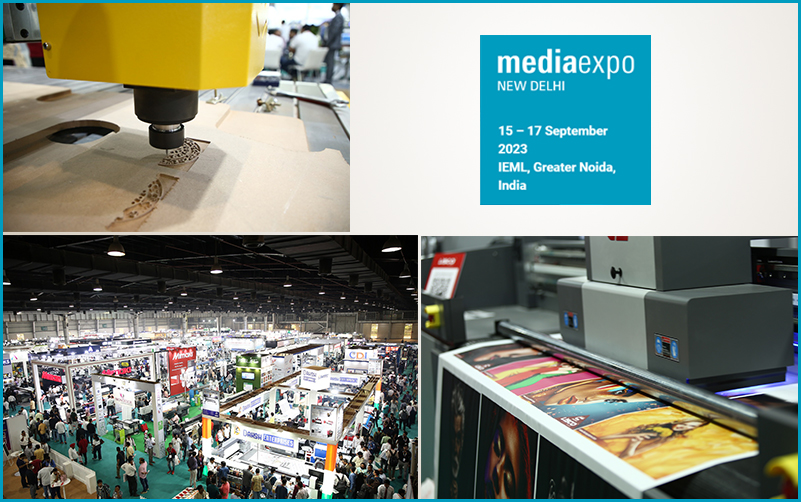 Media Expo New Delhi 2022: Strong Business Growth Reported
19 September 2022: Media Expo's 49th edition, with its jam-packed halls, was buzzing with action. Equipped with next-gen branding innovations, the three-day fair brought together more than 132 exhibitors with over 250 live product displays from the indoor, OOH, digital signage and print advertising industries. Business visitors and buyers converged from across India attracting a footfall of 11,338 visitors from 555 cities covering 29 states and five union territories. The platform also attracted visitors from 17 countries including Bangladesh, Germany, Iran, Japan, Nepal, Saudi Arabia & the USA.
With an exciting display of innovations and branding solutions, Media Expo exceeded business expectations for many of its participating companies. "We closed 52 deals and business worth INR 2.5 crores (USD 313,000) in just three days," confirmed Mitesh Purohit, Director, Umpire Technologies who presented an exciting showcase of engraving technologies at the fair. Purohit further explained "With every edition, our brand has grown at Media Expo as the trade fair allows vast reach among the right target clientele. This edition, we ended up with record sales for our unique CNC woodworking and CNC stone engraving machines, CO2 laser cutting, metal laser cutting, channel letter bending machines among others and we will surely be back with a bigger stall and more products for the next edition."
Even first-time participants such as Shrinivas Papers (P) Ltd. which showcased eco-friendly POSM substrates stated that the company generated over 50 major leads and is expecting business worth 25 lakhs in the coming months through the contacts acquired at the fair. Kamalesh Pawaskar, Business Head – POSM, said "We never anticipated so many inquiries and meeting customers from across India including the North East as well as Nepal, Mauritius and even Andaman & Nicobar! The show has been amazing with genuine footfalls and serious inquiries."
Decked with striking prints, catchy signages and stunning digital displays, the halls of IEML remained jam-packed with trade visitors and business negotiations all around. Award-winning Printer from Bihar, Shailesh Mahajan Proprietor, Mahajan Arts said "I always find new machines and technologies at Media Expo in every visit and end up closing a deal. This year, we have purchased a UV-based machine. This show is very important for our industry and acts as a channel to connect with sector players to explore the latest developments."
With the evolving OOH segment, the trade fair also drew the support of the Federation of Airport Media Owners, many of whom visited the fair. Vedant Mittal, Project & Operations, Times OOH said: "I am already working with many of the brands present on the show floor and a visit to Media Expo allows me to learn about their recent launches and technology upgrades easily at one go. This is a platform where you can connect with experts from different fields, and provides a lot of exposure. I believe every media and outdoor industry professional should visit this show."
Setting the stage for its grand 50th edition
Undisputedly the market-leading trade fair for the printing, signage and advertising industries, Media Expo completes two decades and is now heading towards its milestone 50th edition which will herald a new chapter for the branding show. Raj Manek, Executive Director & Board Member, Messe Frankfurt Asia Holdings Ltd said "The success and growth of our exhibitors is what defines the two-decade long journey of Media Expo. As it approaches its landmark centennial next year, Media Expo aims to reflect the transition of 'Business of Branding' and the transformative journey of the brands associated with it throughout the years." The 50th grand edition of Media Expo will take place in the financial capital from 02-04 March 2023 at the Bombay Exhibition Centre.
www.themediaexpo.com