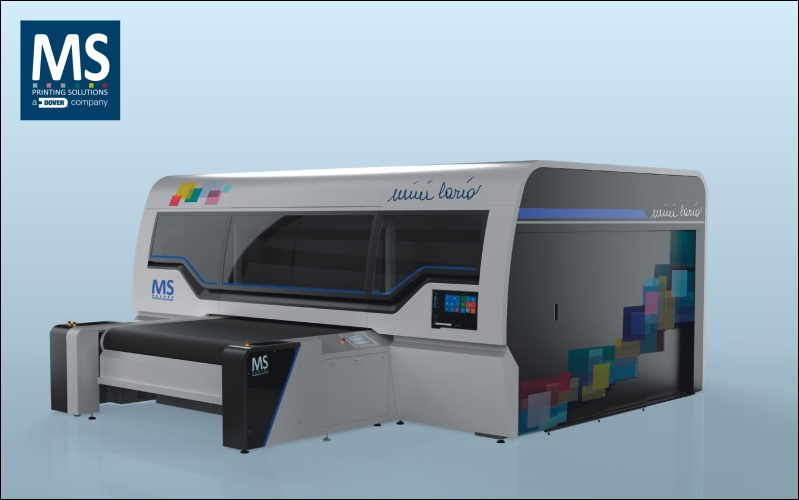 MS MiniLario – Revolution in Digital Textile Printing
08 October 2021: MS Printing Solutions is a Dover Digital Printing company. A long family history now reaching its 4th generation, full of experience and passion. Tradition is very important for MS and with this deep knowledge of Digital Textile Printing industry.
LaRio the first single-pass printing machine in the world, made its debut in 2010, a decade later here comes MiniLario, the fastest scanning machine in the world set to change the face of digital printing.
MiniLario – 64 printheads, 8 colors – is earmarked for Textile Industry that wants to carry on the revolution within its production chain and overcome the new challenges. MiniLario is the choice for those searching for: flexibility, quality, speed, energy efficiency and sustainability, all in one.
MiniLario is fastest scanning machine in the world. The 64 print heads installed on the innovative printing carriage allow MiniLario to reach the shocking but real printing speed of 18m/min.
MiniLario' s accuracy and reliability standards are ensured by the MS brand awareness and what we believe in. We are convinced that only by staying always one step ahead, we can drive the tech change. We have done this yesterday with LaRio, we do this today with MiniLario.
Industrial Productivity
Acting on productivity means to boost the capability to respond to the increasingly more sophisticated and complex industrial printing market demands, managing resources in the best profitable way to achieve these objectives.MiniLario gives printers the ideal combination of: speed, quality and precision. This allows us to completely change the current Textile Printing standards by scanning machines, through a process of constant improvement.
Printing Carriage
Reaching the speed targets we set has been a big challenge won by choosing bold solutions as the printing carriage hanged on the printing bridge.
This innovative solution allows to catch up high-speed, accurate precision and total system stability. Moreover, it simplifies the maintenance operations being accessible from 3 sides. The new operating model simplify the conventional working conditions by increasing the efficiency. Furthermore, the in-depth study of the printheads' electronic-control lets us reach the best printing performance with any ink type by adapting the waveform specifications.
Qwizard Hardware
MiniLario is equipped with Qwizard hardware-software system that allows the easy and fast management of the production. Qwizard allows to see in one video screen-shot, divided into multiple sections, all the main functions: print, print queues, drawings and drawings database. A big advantage for the operators that makes the printing set-up easier and shorter, reducing possible mistakes.
Anti-Crash Head System
Head crash protection system by 2 laser-beam sensors. It allows the precise detection of the printing media unevenness by preventing the contact with the printing heads and the related potential damages.
www.msitaly.com