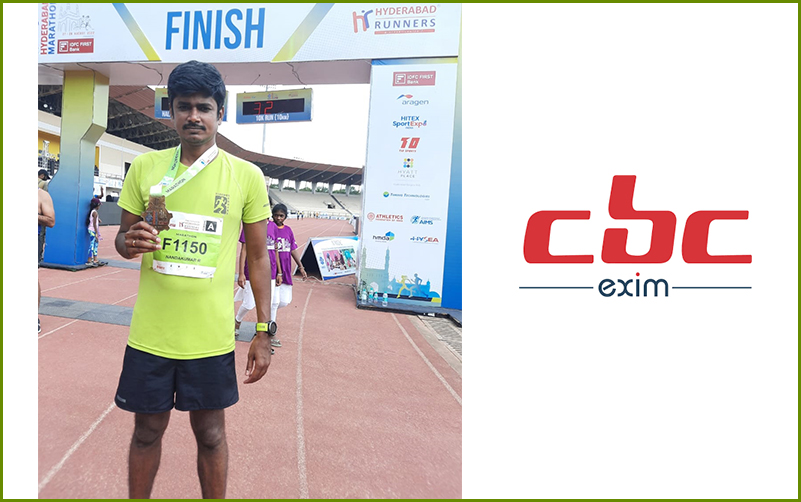 Nandakumar Ramasamy of CBC Exim Participates in Hyderabad Marathon (42.195 Km)
05 September 2022: Nandakumar Ramasamy, CEO & Founder of CBC Exim, Tirupur, leading importers & distributors of textile inks & chemicals, participated in the Hyderabad Marathon 2022 held on 27-28 August 2022 at Hyderabad and proved his mettle yet again. As a leading member of the screen printing fraternity participating regularly at such events, Screen Print India magazine applauds his consistency and valiant efforts.
Passionately fond of hobbies like cycling, running marathons and serving the society by actively participating in Young Indians national building activities, he is a member of Young Indians Tirupur . He takes part in most of the marathon races taking place in Southern India cities like Bangalore, Chennai, Coimbatore, Hyderabad, Mumbai, etc.
Commenting on this accomplishment, he says, "I am an avid lover of activities that combine fitness and giving back to society simultaneously. Marathons are my forte because they are used to spread social messages while at the same time, encouraging people to lead healthier lives. They also bring people together on a common platform and provide stimulus by inspiring youngsters to take up physical fitness as a part of their lives."
The Hyderabad Marathon is the flagship event of Hyderabad Runners Society and is a signature event of Hyderabad City. It is usually held on the last Sunday of August every year. It started in 2011 with an aim to spread awareness about running, active lifestyle and to bring the city together for one cause.
It has grown from being a small event with 1,250 participants in 2011 to being the country's 2nd largest event (in terms of participation). It is now counted amongst India's most popular marathons; it has had more than 27,000 participants in 2019. There has been a 25% growth in participants Year-on-Year.
Hyderabad as a city is known for its history, culture and the world-famous Biryani and pearls. Today, with a number of people taking to fitness activities for an active lifestyle, the sporting infrastructure around the city and with a growing crop of athletes across multiple sports, the city is fast emerging as one of the leading cities in India in terms of sporting culture.
The Full Marathon is a 42.195 Km point-to-point road race, Starting with a loop around the picturesque Hussain Sagar Lake after passing by the adjoining state secretariats of Telangana and Andhra Pradesh, the runners run in front of Raj Bhavan, the Governor's official residence. The route crosses through the Hitech City, the IT District, the Financial District, the villages of Gowlidoddi, Gopanapalli, and through the beautiful shaded campus of the University of Hyderabad to finally finish in the GMC Balayogi Stadium in Gachibowli.