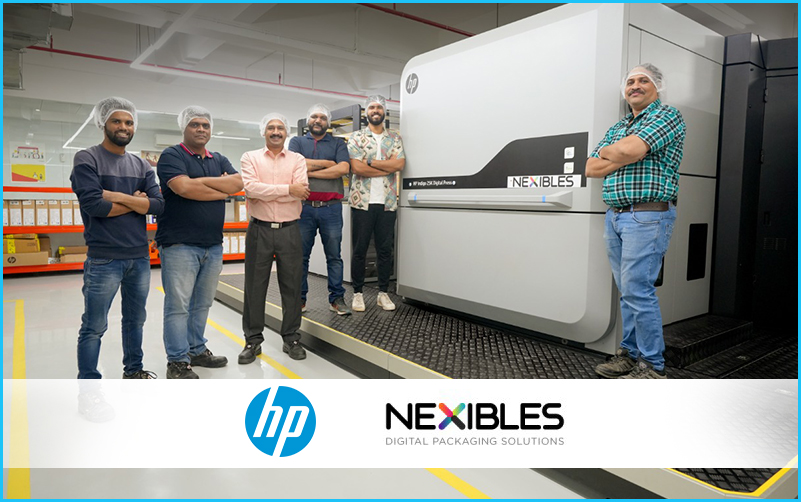 Nexibles from ArtNext Scales its Digital Printing and Packaging Business with HP Indigo 25K Digital Press
22 November 2022: Establishing its foothold in digital printing & packaging, Nexibles, a premium flexible packaging brand from the house of ArtNext has installed HP Indigo 25K Digital Press at its facility in Mumbai, Maharashtra, to keep up with the most recent digital printing technologies. HP Indigo 25K will equip Nexibles to meet market demands of fast packaging by providing digital flexible packaging solutions in the form of pouches, shrink sleeves, labels and roll form laminates.
Amol Lambe, Founder Director, ArtNext said, "ArtNext has always placed digital solutions at its core where we promise astounding results in rapid turnaround time. We have partnered with multiple fast-paced segments from retail and F&B for their print and paper-based packaging requirement over the past two decades. Through our association with HP, we have embarked on a new journey offering digital flexible packaging. Within the first 6 months of HP indigo 25K installation, we have successfully collaborated with many upcoming and young brands in providing faster digital solutions to their requirements of flexible packaging."
Speaking on the new installation, A. Appadurai, Country Manager, HP Indigo & PageWide Web Press, HP India said, "Fueled by personalized demands of consumers, the digital flexible packaging industry continues to grow at a rapid pace. Recognizing this opportunity in the growing market, today we provide various solutions to companies and brands that have new age requirements which demand flexible printing solutions, delivering high-quality and cost-effective print in the speediest timeframe and adjusting to multiple settings."
HP Indigo 25K Digital press is designed to address the on-demand flexible packaging market, with optimized production and cost efficiency which will enable ArtNext to manage high-volume customers and deliver any size-job on time. Equipped with HP Indigo LEP and One-Shot Color Technology, HP Indigo 25K digital press offers high resolution, high quality, and perfect registration. This color accuracy will allow ArtNext to deliver exceptional digital packaging, ensuring that every pack looks the same with the exact colour.
www.nexibles.com