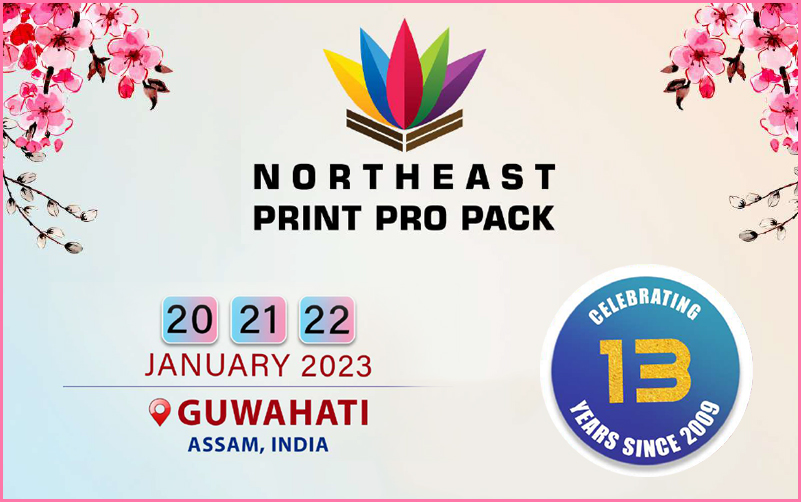 Northeast Print Pro Pack 2023 to be held at Guwahati, Assam
17 August 2022: The Northeast Print Pro Pack 2023 edition will be held at Guwahati, Assam from January 20-22, 2023. It will provide an opportunity to be a part of that region's largest and most extravagant exhibition for offset printing, value addition, binding of books & calendars, digital printing, screen printing, labels, packaging & non-woven industry.
Northeast India comprises of eight states – Arunachal Pradesh, Assam, Manipur, Meghalaya, Mizoram, Nagaland, Tripura and Sikkim. Guwahati city in Assam is called the Gateway to North East and is the largest metropolis in North East India. The printing & packaging market has witnessed an astounding growth in the in Northeast India in last few years and the Government of India is giving due importance to this region with air and railway connectivity and there is Special Ministry of Development of North Eastern Region (MDoNER) taking care for socio-economic development in the region.
The growth in printing and packaging sector in this region is playing an important part due to development of new industries, hotels, growth of tourism and the area is neighbouring Nepal, Bhutan, Bangladesh and many south eastern countries.
The show is being organised by DBS International, a reputed B2B exhibition organiser based in Kolkata, organising Eastern Print Pack with the support of West Bengal Master Printers Association and Q3Q Exhibition (P) Ltd., Kolkata. WBMPA, being one of the oldest associations of the print industry as well as one of the founder member of AIFMP, has been a concerned, functional entity actively working with the vision of reshaping and developing the printing & packaging industry in the Eastern Indian region.
Dipankar Samanta (93315 48220)
dipankar@easternprintpack.com