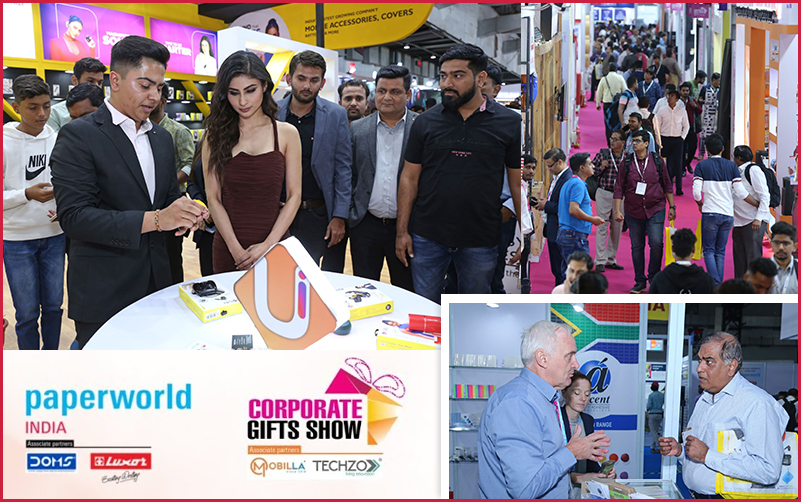 Paperworld India and Corporate Gifts Show 2023 Receives Excellent Response
12 April 2023: Organised by Messe Frankfurt India Trade Fairs India (P) Ltd. together with Gifts & Accessories, the Exhibition Division of Netlink Solutions (India) Ltd, Paperworld India and Corporate Gifts Show 2023 garnered a staggering response from the industry at Bombay Exhibition Center, Goregaon. The co–located trade fairs brought together 292 exhibitors and proved to be a great success with the convergence of 15,192 trade visitors from all across India and worldwide while building strong business relationships with support from the industry.
Paperworld India and Corporate Gift Show 2023, concluded on a high note with plenty to offer with its unique product display leading to multiple business possibilities and helping the exhibitors to develop new business contacts along with a strong brand identity. It also helped visitors across the globe gain a new perspective with the array of products displayed at the fair.
The exhibitors were occupied with serious business meetings as they witnessed a constant surge in visitor flow. Visitors were enthralled with the wide range of innovations available, all under one roof, making it easy to source new and innovative products. Raj Manek, Executive Director and Board Member, Messe Frankfurt Asia Holdings, stated "We are truely delighted by the overwhelming response from the visitors to a wider product spectrum offered by the exhibitors at this year's Paperworld India and Corporate Gift Show, which addressed the needs of the stationery and gifting industry."
Reflecting on the personalisation trend in corporate gifting, joint organiser, Minesh Modi, Whole Time Director, Netlink Solutions India Ltd, stated "Through Corporate Gifts Show we gained a fair insight on how the current trend of personalisation in corporate gifting is gaining popularity as it attracts and appeals to the receivers of these gifts who are generally millennials. Such exhibitions help exhibitors and visitors who are looking ahead to newer growth prospects and building their business."
Pleased with the exciting showcase of products in stationery sector Ms Forum Shah, Creative Director, Icraft, shared "This is my first participation at Paperworld India and Corporate Gifts Show 2023 and compared to our past experience, we are very pleased with the visitor response which we have received in this show. With DIY being our core USP the show has given us the chance to connect with many like-minded people, we appreciate Messe Frankfurt India for organising such platforms allowing us to connect with the maximum number of people and we are already looking forward to the next year's shows."
www.paperworldindia.com, www.corporategiftsshow.com