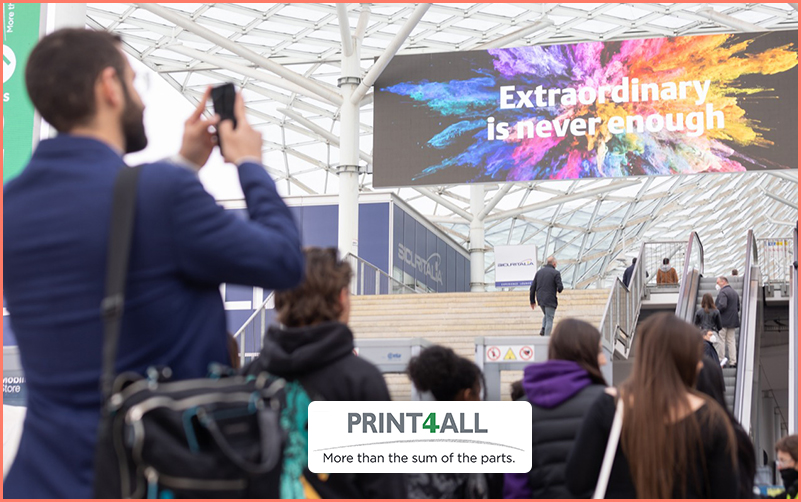 Print4All Closes with About 21,000 Visitors
08 June 2022: 246 companies and 20,922 operators: these are the numbers that concluded the second edition of Print4All, from 3 to 6 May at Fiera Milano, and that confirmed it as a reference point in Europe for print and converting professionals.
"If I wanted to define this edition with a noun, it would surely be 'energy'.This is what was felt in the pavilions and at the stands of the companies during all four days of the event. – explained Paolo Pizzocaro of Fiera Milano, Exhibition Director of Print4All – Evidently, the desire to meet again in person, to be able to confront life, to touch all the innovations that the sector offers, has moved a large number of professionals to visit Print4All to update, but also to do business, because this year, more than ever, the fair was not only a moment of relationship but also an opportunity to sign sales contracts."
Profile of visiting operators was high: 44% were owners, CEOs and managers – therefore decision-makers with spending capacity – while 32% were represented by technical figures, fundamental for the selection and evaluation of the technologies to be included in their companies.
On the interesting side, 42% were looking for innovations related to printing solutions, but there was no lack of attention to raw materials, components and equipment in the press room, a primary objective of 24%.
Interesting are the data linked to foreign operators, coming from 66 countries, as evidence of the resumption of international mobility. A strong presence of European professionals (71%) and North Africa (12%), areas particularly interested in the purchase of technologies Made in Italy in these sectors.
In particular, the ten most-represented countries were Spain, Germany, Switzerland, France, Slovenia, Algeria, Romania, Albania, Poland and Egypt.
The Innovation Alliance – which includes Ipack-Ima, Greenplast and Intralogistica Italia and Print4All – will return with the same composition from 27 to 30 May 2025, always at Fiera Milano.
www.print4all.it