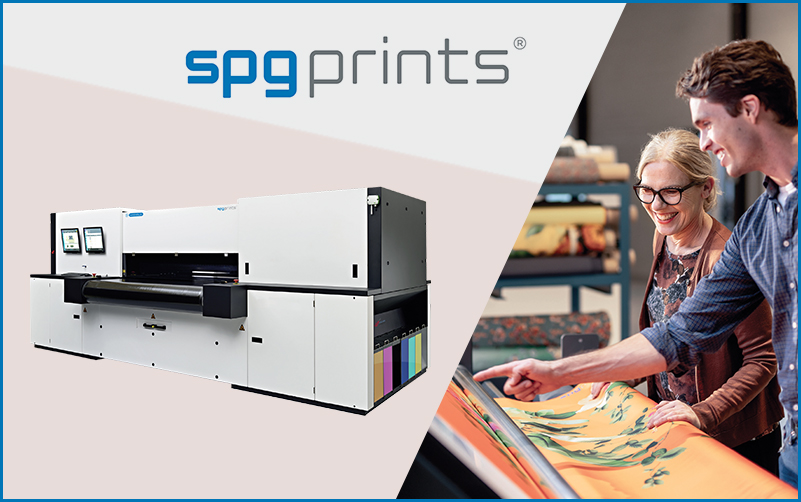 SPGPrint Launches Magnolia – The Next Step in Digital Textile Printing
03 August 2022: Magnolia from SPGPrints offers unsurpassed quality and value to textile printers who are taking the first step into digital production. It also offers a step up to high-performance, high-quality production for printers who wish to develop their digital capabilities further. Magnolia uses several printing modes and 36 FUJIFILM Dimatix Samba print heads with a resolution of 1200 dpi.
Save Time, Space and Money
Digital printing has many benefits. It makes short-run, fast-turnaround jobs affordable for customers and profitable for printers. It eliminates screen preparation time and makes more time available for printing full production runs on screen printing lines. With an annual output up to 2 million metres, Magnolia is both a workhorse and a sprinter.
Multitude of Applications
Open creative possibilities with the wide range of substrates that can be printed by Magnolia: sublimation papers, natural fibres, polyester, lycra, wool, silk and even polyesters. Blotches, fine lines, geometric designs and intense colours can all be printed thanks to variable ink drop technology.
Engineered for Performance – Enabling Productivity
Uninterrupted printing of multiple jobs on the same substrate

Fast, cost-effective production of multiple variations for sample and production runs

Print placement for accurate replication of designs no matter what the garment size

Reduced ownership costs through the SPGPrints Print Head Program for full control of print head performance and costs
The digital printing power of Magnolia can make your whole workflow more efficient by eliminating bottle-necks and improving the capacity of your screen lines while meeting customer demands for smaller, urgent jobs.
www.spgprints.com