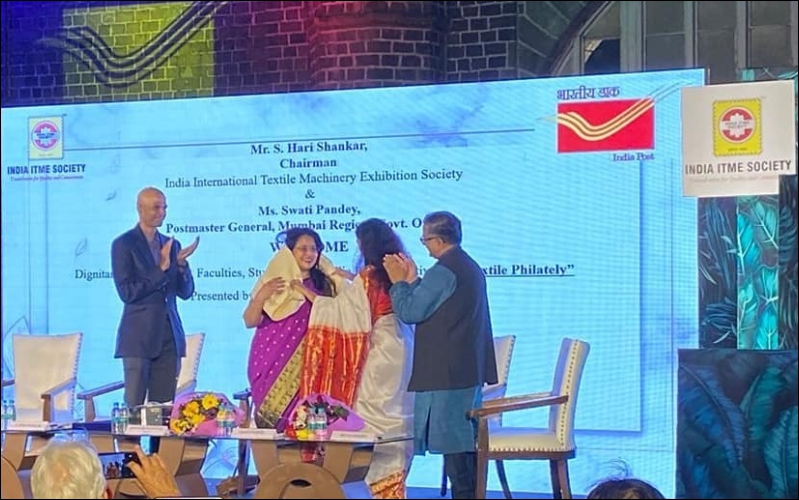 Textile Commissioner marks her presence at "Textile Philately" Presented by India ITME Society & India Post
10 November 2021: India ITME Society 42 year old non profit apex industry body & India Post organized Textile Philately & Interactive Programme with Ms. Roop Rashi Mahapatra, IA&AS, Textile Commissioner, Govt. of India on 30th October 2021.
India ITME Society has always been on the fore front to support the Industry with its out of box solutions & commitment towards quality service to the Exhibitors. The initiatives have ascertained a cementing breakthrough in bringing back the business momentum & program was a first of its kind get-to-gether by enabling the guests to enjoy grandeur of the iconic GPO Heritage Building.
The program was jointly organized by India ITME Society & India Post at the iconic Heritage GPO Building which was built in 1913 and is modelled on Gol Gumbaz Karnataka. Mumbai GPO is one of the 5 Philatelic Bureaus in the Country authorized to sell United Nation Stamp.
Swati Pandey, Postmaster General, India Post, enthusiastically spoke about her association with India ITME Society since the 40th Year program. Her scintillating presentation articulating the golden history of Indian Culture & textiles encaptured in the postal stamps was unique & valuable, yet least known to many.
India ITME Society felicitated Swati Pandey for Winning 67th National Film Award for Best Biographical Film "ELEPHANTS DO REMEMBER"
Avinash Mayekar, MD & CEO Suvin made a Presentation on "Roadmap for Ecosystem development of Textile Engineering Industry in India." The information shared by Mayekar was highly applauded.
The captivating presentation by The Textile Commissioner, Ms. Roop Rashi Mahapatra, IA & AS was the highlight of the program. Her Musings on NURTURE THE FUTURE charged the students by the quizzes and elucidated them on the in-depth knowledge of the textile industry. The Textile Commissioner's office have posted the highlights of the event on their Social Media channels.