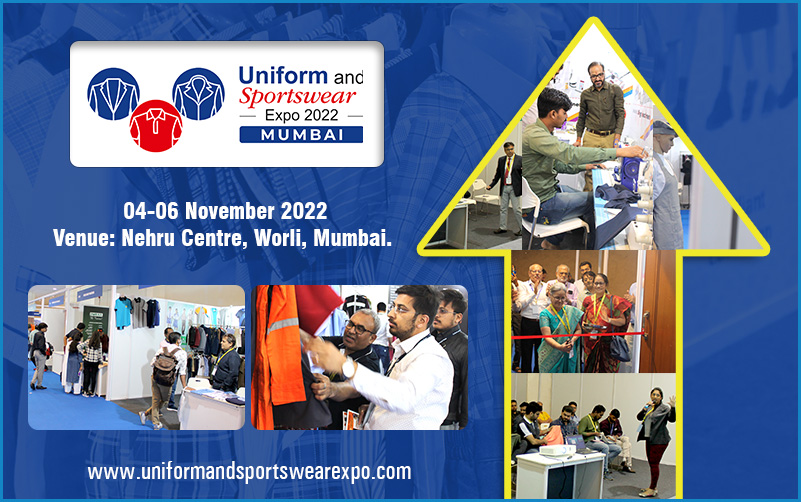 Uniform and Sportswear Expo 2022 showcases growth opportunities
08 November 2022: There is a niche in the market, but is there a market in the niche? The Uniform and Sportswear Expo 2022, held from November 4-6 at Nehru Centre, Worli, Mumbai answered this question with an emphatic 'YES'! The well-planned and structured three-day exhibition ensured a rewarding B2B interface and also proved conducive to heightened awareness with technical seminars held to increase the knowledge quotient.
The freedom to interact in a focused manner with the target audience, while showcasing varied products and related services in an enabling environment was greatly appreciated by the exhibitors and visitors alike from across the nation, who conferred high praise on the organisers, Aditya Expositions, a reputed brand and catalyst for industry transformation. With a substantial number of stalls highlighting a wide range of offerings, it was well worth the time and amount invested, both readily affirmed.
Devang N. Sheth, Managing Director, Aditya Expositions, emphasised, "The market for uniforms and sports apparel is set to grow exponentially but it needs a dedicated platform to achieve that potential. Aditya Expositions' Uniform and Sportswear Expo 2022 provided precisely that. Recent reports have made it clear that the potential is not just within India but an opportunity to tap markets beyond borders as well. This sunrise industry has vast scope to increase its share within the apparel and textile market. We envisage immense potential for growth and development. This initiative is our contribution to enable manufacturers from this country to export all over the world; facilitating the 'Make in India' efforts as they progress and achieve a level of true success."
As a customised platform conceptualised to facilitate exponential growth, Uniform and Sportswear Expo 2022 offered an ideal opportunity to reap big benefits. Media Partners for the three-day event were Screen Print India magazine, Sublimating Ideas magazine, Textile Mirror magazine (Bhilwara) and Textile Value Chain while BITtextiles.com associated as Digital Partner with Screenprinting & Graphics Association of India (SGAI) as the Supporting Association.
www.uniformandsportswearexpo.com
Exhibitor Feedback
Among the exhibitors, Soniya Gore, Head Sales & Marketing, Uniforms Unlimited, described the experience of the exhibition as 'good.' She affirmed that, "The Uniform and Sportswear Expo 2022 gave us a good opportunity to collaborate and provided a good exposure, especially for people who are participating for the first time. The uniforms market is picking up post-pandemic." The Uniform Unlimited brands are Chefs unlimited and DEZENZIA by Zubin Mehta and both drew visitors.
Siddhant Shah, founder, BRANDStreaminc., a young entrepreneur hailing from Ahmedabad and a newbie into the business, also concurred that the response was pretty good. "This was the first such exhibition for our company and we got to learn so much from other senior exhibitors; starting from marketing to how to display the products etc." BrandStream is into corporate uniforms, jeans and formals, their creations were appreciated by visitors.
Arun Sharma, Sales Executive Bharti Creations felt that the response was normal and that future editions would be even more successful with greater promotions and awareness. Bharti Creations are into ID card manufacturing and were looking for school tie-ups through their participation in Uniform and Sportswear Expo 2022.
Knowledge takeaways
The first informative seminar conducted by Smitha Jacob, Managing Director, Saggian Ventures (P) Ltd. – Jolger Activewear, provided an in-depth understanding of the India Sports Apparel Market, underlining the forecast compounded annual growth rate (CAGR) of 16.2% from year 2022-2029, with the market size set to rise from USD 579.47 mn in 2021 to USD 2238.13 mn in 2029. A detailed segregated overview by product type segment and end-user segment was also shared. From the origin of activewear to functional requirements of sportswear, technologies and innovation in fabrics, classification to design approaches and the relevance of performance fabric, each facet was explained during the presentation.
This was followed by an interactive session under the 'Creative Brandforms: 60 Insightful Minutes' format conceptualised by Dharmesh Jethmalani, Creative Business Communication Consultant, Trainer & Facilitator. The underlying message or theme was: Don't just give them a Uniform with a Logo. Give them an Excellent Branding System! The participants were taken through each stage of the process involved with selecting suppliers and service providers for uniforms and taught to think beyond just their immediate clients while looking at the larger picture. From customer awareness to awareness about the use of colour psychology and innovative content as well as the use of feedback for referrals, it was a thought-provoking seminar, which had the audience coming up with their interpretations and gaining the basic tools to proceed.