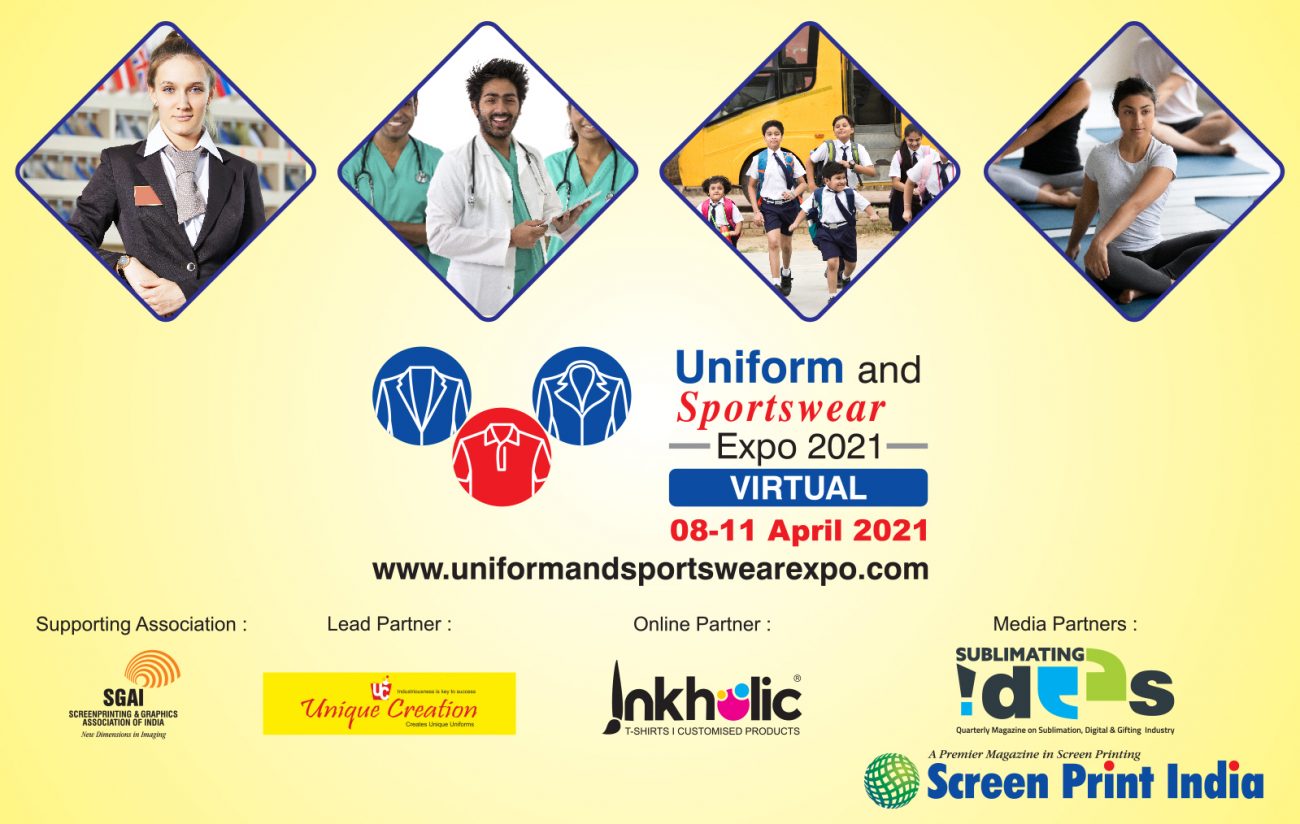 'Uniform & Sportswear' Virtual expo from 08-11 April 2021 Gains Momentum
07 January 2021: A recent report indicate that the Indian sportswear market would reach INR 997.8 billion by 2024, with an estimated compound annual growth rate (CAGR) of about 13.59%, during 2019-2024. A notable trend is that Athleisure is also being widely used as casual wear which is propelling demand for activewear in India. According to reports available online, the market size of the uniform manufacturing sector in India is estimated to be Rs.18,000 crore per annum, with Rs.10,000 crore coming from machinery and fabrics while Rs.8,000 crore comes from sales supplying to local schools through retailers and institutions.
Against this promising future market opportunities, Aditya Exposition Pvt. Ltd. Mumbai, will be organizing their first 'Sportswear and Uniform Expo' in Virtual format from 08-11 April 2021. Since it is a virtual exhibition, to draw maximum attendees, the organizers will do massive social media campaigns on all available popular platforms, to reach out to the targeted audience. These include sportswear manufacturers, buyers, exporters, wholesalers and dealers in the sector, corporate, sports organizations, clubs, yoga and gym clubs, sportspersons, coaches, sports therapists, etc.
Sportswear refers to sports-specific apparels suited for physical activities. These include tracksuits, gym suits, yoga wear, swimwear, and tights. According to online reports, the activewear market in India has witnessed a steady growth in terms of market revenue.
Uniforms are one of the top requirements in schools, colleges, corporate firms, hospitality ventures, restaurants, hospitals and other institutes. According to an online report, over the next five years, the School Uniform market will register a 7.6%% CAGR in terms of revenue, the global market size will reach $25,710 million by 2025, from $19,200 million in 2019.
Virtual trade shows are relatively low costs and substantial ROI. The ability to generate qualified leads directly from one's office without having to run up expensive travel bills makes virtual trade shows extremely attractive. Lower barriers to entry also mean that virtual trade shows attract more diverse exhibitors and attendees, creating massive online audiences and leads.
A virtual event is a replication of an in-person event, with added value, that takes place online instead of at a physical venue. There is a connection between exhibitors and attendees through virtual booths and sponsored sessions. Right at their computer, visitors will be able to explore the showground, handle products, and connect face-to-face with exhibitors. They can virtually handle the products, which are rendered in 360-degree panoramic photographs, download catalogues, videos etc. all without going into a physical exhibition which may pose COVID-19 risk.
Constant promotion of the exhibition will be undertaken to create wider awareness. Promo link and banners will be sent to exhibitors so that they can also invite their customers to participate in the exhibition. 'Sublimating Ideas' and 'Screen Print India' magazine which are related to this niche industry are 'Media Partners', Online Partner is Leading Online T-Shirt Store 'www.inkholic.in' and Lead Partner is Unique Creations, Mumbai who are Leading Mfgrs. of School and Corporate Uniforms from last 30 years. 
advertise@adityaexpo.com / www.uniformandsportswearexpo.com