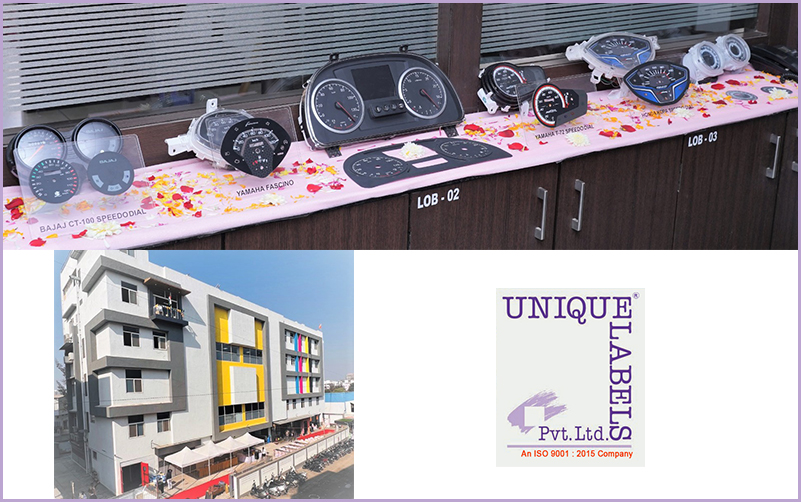 Unique Labels (P) Ltd., Pune Showcases New Premises
13 March 2023: Unique Labels (P) Ltd., a leading organisation that offers diverse solutions in high quality screen printing, founded by Padmakar Khake, Managing Director, recently organised a function showcasing its new factory. Located at Narhe-Ambegaon Road, Narhe (which is situated in Southern Pune and enclosed by Ambegaon Budruk, Vadgaon Budruk, Dhayari) the ultra-modern 3 storey printing facility had started operating last year. After production stabilised and all other formalities were completed, the husband-wife Khake duo decided to celebrate the success with their well-wishers, OEMs / clients and suppliers.
The event was held on February 24, 2023, which was also International Printers Day, the birthday of Johannes Gutenberg, a German inventor and craftsman who introduced letterpress printing to Europe with his movable-type printing press. The founders and staff members of Unique Labels took the invitees around on a tour of the factory, giving them a clear picture about the development that has taken place in terms of the company's capabilities. The function was followed by a sumptuous luncheon.
Providing details about the total premises, Padmakar Khake, said, "Our factory has a 33,000 sq. ft. built-up area as of now. It is a state-of-the-art factory, well-planned taking care of each department after studying layouts of many related companies. It is more sustainable, more user-friendly and has been envisaged keeping in mind the scope of future expansion. There is an ISO 8 clean room, all stages of the process properly planned from designing to final dispatch."
Sharing details about the feedback received to the new premises, he added, "We have over 100 customers / OEM's from leading automotive, medical, electronics and defence segment. Our clients/ OEM's were happy after visiting our new printing facility and complimented us on such an excellent and updated printing set-up in India. Our total staff strength is 160 plus and female staff members comprise 40% of that, which has also been appreciated."
While Padmakar Khake is ably supported by his wife, Vandana Khake who is Director (HR), the NextGen in his family is also geared up to play an important role going forward. Their two sons are most likely to join the business in near future. Pawan has done MS (Printing) from Rochester Institute of Technology, USA and Vedant is doing MS (Computer) from Stevens Institute of Technology, USA.
Commenting on their expansion plans, he said, "We are looking at further expanding into automotive interiors or decorative surfaces for vehicle interiors along with In-Mould Decoration (IMD) as India's automobile industry is booming. In year 2022, India became the third-largest automobile market in the world, surpassing Japan and Germany in terms of sales. Currently India's automobile industry is worth of more than US$100 billion and contributes 8% of the country's total exports. Electric Vehicle (EV) market also has a great deal of potential for industrial screen printing. Government policies for attracting more manufacturing companies to 'Make in India' is a positive sign for all of us and future looks very much promising for us."
During the function, Screenprinting & Graphics Association of India (SGAI) honoured the Khake duo; Rajesh Kulkarni, MD, Keetronics presented them with a shawl and memento for 32 years of progress in the industry, on behalf of the association. Devang N Sheth, Secretary, SGAI, and publisher, Screen Print India magazine, who also attended the function, said, "I have been able to see the successful journey of the Khake duo from the last 32 years and they deserve all the possible applause on their accomplishments during this phase. Padmakar Khake is known for his ethics, morals and enthusiasm. He is a very simple and down to earth person, a man respected by the entire screen printing industry in India."
Elaborating on the company's growth story, Padmakar Khake said, "For over three decades, Unique Labels has been a trusted leader in screen printing, offering services to customers from all segments. We have also introduced the 5s culture and Quality Circle in our organisation and we have begun to reap the results. Screen printing is more versatile than traditional printing techniques. The surface does not have to be printed under pressure, unlike etching or lithography, and it does not have to be planar. Screen printing inks can be used to work with a variety of materials, such as textiles, ceramics, wood, paper, glass, metal, and plastic. As a result, screen printing is used in many different industries. You can look at us as a one shop for a diverse set of screen printing solutions including Automotive Dials & IMD Products, Facia & Graphic Overlays, Industrial Stickers, Labels, Tags, UV Domed and Embossed Labels and Illuminated Labels."
"Our mission is to optimise technology coupled to global class Quality Assurance (QA) norms for our partnership with clients. We endeavour to help our client-partners achieve the best results that will help them sharpen their competitive edge. We are committed to manufacture and supply best quality products by continually improvising on the effectiveness of our quality management systems. We shall continuously to enhance customer satisfaction and continuous improvement in all verticals in our organisation We also strive to keep upgrading human competency level in our organisation," he added.
www.uniquelabels.co.in