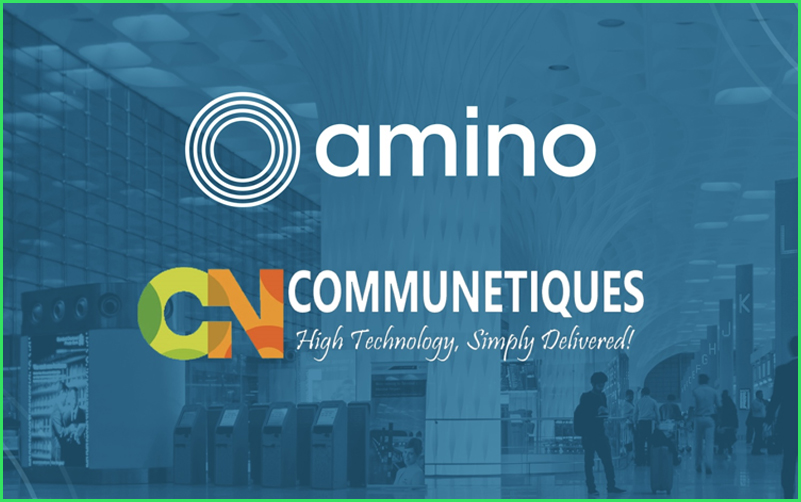 Amino and Communetiques Provide Advanced IPTV and Digital Signage Solutions for Mumbai International Airport
02 February 2023: Amino, the global media and entertainment technology solutions provider and Communetiques, a leader in customized IPTV solutions for specialized fields has announced a new deal to provide integrated IPTV and digital signage solutions to deliver entertainment, advertising and flight information to displays in major Indian airports. Deployment will start with Chhatrapati Shivaji Maharaj International Airport in Mumbai.
The airport is upgrading its existing system with the Amino H200 media player device featuring Power over Ethernet (PoE) capability for single-cable installation, which reduces installation time and cost, plus power and the overall strain on the environment by eliminating materials required to build a new network. Communetiques' new middleware, PAX TV, will run on the Amino devices and has been designed specifically to meet the unique needs of public transportation venues.
"This major airport IPTV and digital signage upgrade is an ideal deployment to take advantage of the enhanced features in our H200 device, and it is testament to the trust we've been able to develop through our high-quality and reliable solutions," said Donald McGarva, CEO of Amino Communications.
"Communetiques and Amino have proven to be formidable partners since we launched the initial IPTV system nearly a decade ago," said Zaheer Syed, Manager of IT at Chhatrapati Shivaji Maharaj International Airport. "We have been really impressed by the performance of the Amino set-tops, as we were initially skeptical of the durability of the devices in this environment. We need industry-grade, 24×7 running devices with zero downtimes and the IPTV system has exceeded our expectations."
"There are about 45 million passengers each year that pass through the terminal at the Mumbai airport, so we built an IPTV and digital signage system that offers a more dynamic and sustainable system to better entertain and inform, and ultimately make the travel experience more enjoyable," said Milind Kulkarni, CEO of Communetiques.
www.communetiques.com