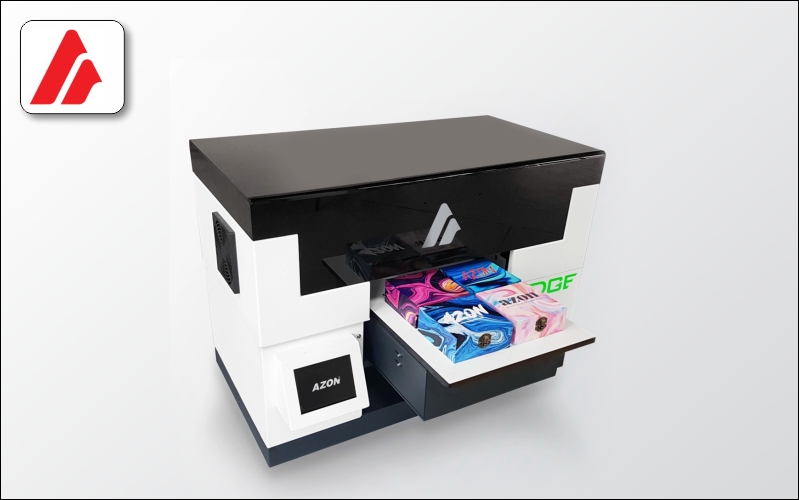 Azonprinter's New Desktop EDGE SX UV LED Printer
16 November 2021: Azonprinter has Launched the New Small Sized UV LED Printer, with printable area of 29,7 x 42cm (11,69 x 16,53 inches). The newest addition to the Azonprinter family of products uses CMYK and White. The inks are certified (EN 71/3) Azon UV Turbojet Inks, which means that they are Phthalate free; enabling you to print even on children's toys!
The printer goes up to 13cm, and is great for materials such as wood, stone, plastic, glass, ceramic and metal.
EDGE SX is the perfect solution for small to medium sized businesses, as it can fit almost anywhere (60 x 80 x 82 cm). Azon EDGE SX offers print quality far beyond any competitor in its class.
Edge UV Curing System: Each Azon EDGE is equipped with highly durable UV Curing System, Adjustable UV Output, More than 10,000 working hours, High durability components, Low energy consumption and Cold UV LED.
Cost Effective, Low Maintenance: Azon EDGE is carefully designed to reduce maintenance to a minimum. With Azon RIP Software each print will be produced in a quality way beyond and competition but still every aspect of the print will be optimised in order to make it cost effective, Low Maintenance, Upto 2 weeks in standby mode, Lower print cost and Plug & play.
Conti Ink System & Circulation: Handling the ink was never been easier, fast, clean and simple. Azon CONTI continue ink supply allows for the printer to be refilled with ink during the printing operations which translate to zero time loss during the refill. 500 ml. bulks with ink level detection, Built in white ink circulation and Azon CONTI.
www.azonprinter.com/edge/