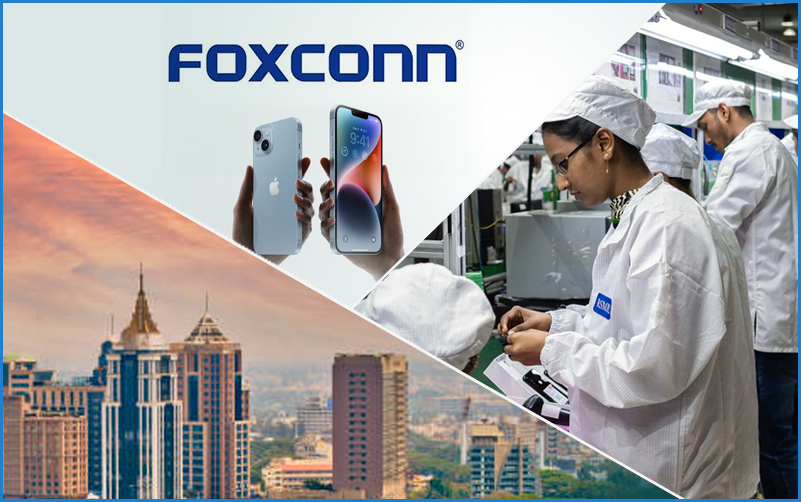 Foxconn's New Plant Coming-Up Near Bangalore Airport
12 April 2023: Apple vendor Foxconn is increasing its investment in India. In the latest development, Taiwanese electronics contract manufacturer Foxconn has decided to invest an estimated $700 million to set up a new plant in Karnataka. The plant, to be located near the Bengaluru airport, is expected to manufacture and assemble devices including iPhone.
Minister of State for Electronics & IT Rajeev Chandrasekhar recently tweeted that Foxconn would build a new plant spread over 300 acres of land in Karnataka for assembly of Apple phones. Karnataka Chief Minister Basavaraj Bommai too made a Twitter announcement. "Apple phones will be built in the state soon. Apart from creating about 100,000 jobs, it will create a whole lot of opportunities for Karnataka."
Recently Foxconn had signed an agreement with Telangana Government to set up a manufacturing facility with a potential to create 100,000 jobs. So, the new manufacturing plans of Foxconn come with the promise of generating over 200,000 jobs across Telangana and Karnataka.
The two announcements, for Telangana and Karnataka, coincided with Foxconn chairman Young Liu's meeting with Prime Minister Narendra Modi recently. This was Liu's second India visit in less than a year.
Foxconn has already plants in Tamilnadu and Andhra Pradesh. Also, through its joint venture with Vedanta, it is also making a foray into semiconductor business- a project which is expected to get green signal from government soon.
Analysts said about 10-12 per cent of the Apple iPhone capacity would shift to India from China under the PLI scheme. But there was room to manufacture more and raise the level to 18- 20 per cent of the total production, they explained.
Foxconn Hon Hai has hired the highest number of blue collared workers amongst Apple's three vendors. Pegatron and Wistron are the other two.