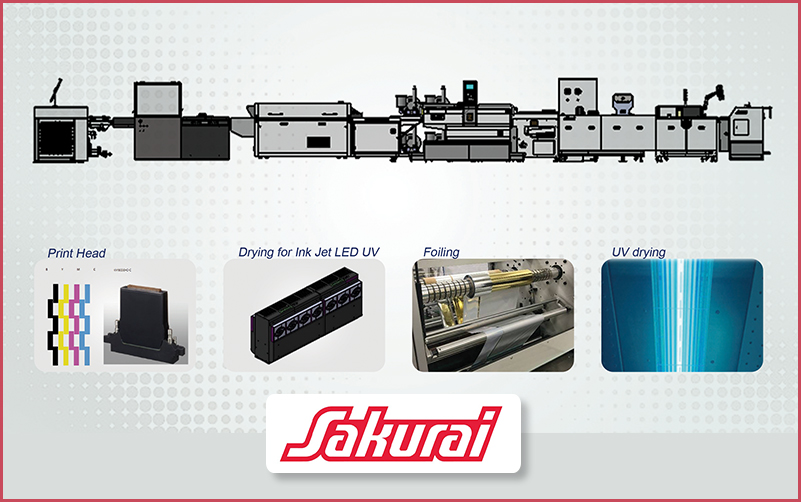 Sakurai Highlights MS-80SD-EXT+LQM-105EVO Inkjet/Screen Printing and Foiling Combination Line at New Technology Introduction Show 2022
04 January 2023: Sakurai's New Technology Introduction Show 2022 Demonstration recently organised by the Sakurai Graphic Systems Corporation, highlighted among its vast portfolio, the company's MS-80SD-EXT+LQM-105EVO Ink jet/screen printing and foiling combination line.
MS-80SD-EXT enables inkjet printing and screen printing of designs, serial numbers, foil stamping, etc., which add value to printed materials, can be carried out in a single pass, with a maximum print size of 500 x 500 mm at a resolution of 600 dpi and maximum speed of 1,200 IPH. Total productivity can be improved by consolidating multiple processing lines.
The inkjet device is named as per the 'Extra Combination of Inkjet Technology' = EXCITE. Print head of Konica Minolta "20 sets are fitted, KM1800iSHC printhead is a 1776 multi-nozzle, 600 dpi high-density head. All nozzles have an independent drive system, maximum drive frequency 84kHz. It has a thin and compact appearance due to original design technology. High image quality in high-speed printing is possible due to stable ejection performance. It has upto 8 grayscale functions and is small droplet type 3.5pl, UV ink compatible with 70,000-hour service life LED lamps.
Foiling Machine LQM-105EVO has a LQM EVO Basic line configuration. The foil is thermo-compressed only on the area where the transparent varnish is screen-printed, so that a high-precision hot stamping effect can be achieved only on the required points without the need to produce special moulds.
The foil roll unwinding shaft is of the split clutch type, which allows several different coloured foils to be processed simultaneously with foil widths of 100 mm or more. The alignment conveyor enables the printed sheet to be position-corrected and transported to the processing section. The sheet edge is read by a sensor and the foiling position can be set by entering a numerical value.
Since its incorporation in 1946, Sakurai Graphic Systems corporation has manufactured printing equipment and provided sophisticated services to customers closely tied to the domestic and overseas printing industry under its corporate philosophy of developing and maintaining customer relationships that endure for generations. Over this time, the information industry and an information-based society across the world have grown rapidly, benefiting from the advances in information technology. The printing industry, which plays such a vital role in the communication of information, is undergoing a structural revolution in response to increasingly diversifying and sophisticated market needs.
For further details you can contact Ajay Gandhi (98202 20063) and Kunal Gandhi (88795 62232) of Kunal Enterprise, Mumbai – Indian Distributors of Sakurai Graphic Systems Corporation, Japan.
www.sakurai-gs.co.jp/en/