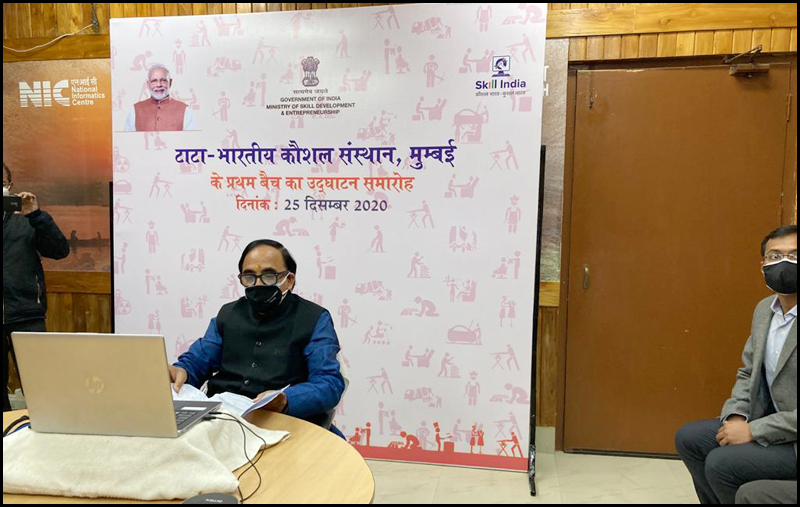 Tatas & Skill Ministry commence 1st batch of Indian Institute of Skills in Mumbai
28 December 2020: The first batch of trainings at the Tata-Indian Institute of Skills, Mumbai was unveiled at a virtual event by Dr. Mahendra Nath Pandey, Union Minister of Skill Development and Entrepreneurship. The institute is a joint initiative between Ministry of Skill Development & Entrepreneurship (MSDE), Government of India and Tata Indian Institute of Skills. Formal agreement for setting up institute has been signed between MSDE and TATA IIS on 11th November, 2020. The aim of the project is propel India to the forefront of skill development and job creation under Skill The first batch at TATA-Indian Institute of Skills will commence training with two courses in Factory Automation, with duration ranging from1 to 4 weeks, depending upon the pre-qualification profile of the trainee. The institute will also offer scholarships to the first 100 students along with attractive fee options during this initial launch phase. An early bird scholarship scheme of 75% has also been announced for the first 100 students/trainees.
Dr. Mahendra Pandey said that IIS Mumbai will be instrumental in imparting world-class training to help build a future ready workforce.I extend my gratitude towards the Government of Maharashtra and Tata Group for extending support towards Skill India Mission and I am hopeful that this collaboration will transform the state's youth from job seekers to job creators.
Training and learning at Tata-IIS Mumbai will be driven through strong industry connect in both public and private sectors. Equipped with modern training methodologies leveraging digital and augmented learning platforms, the institute will also focus on apprenticeship-embedded courses and offering higher order qualifications in conjunction with other universities.