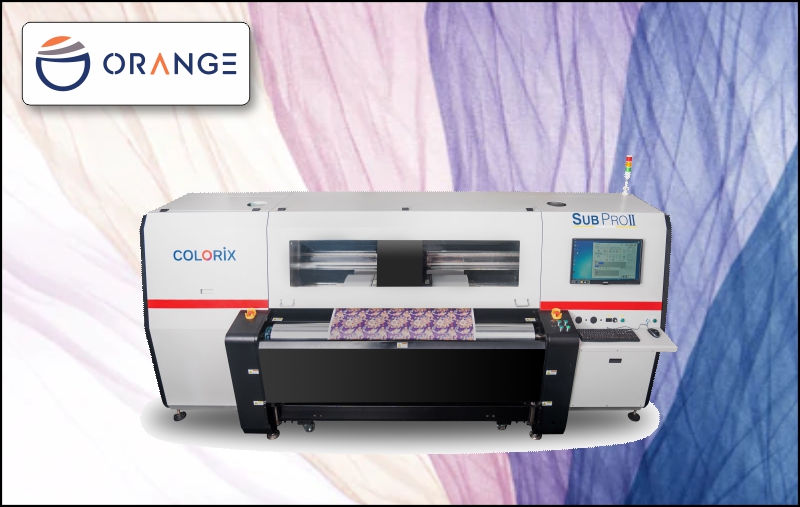 Colorix machines are making big headways in the Digital Textile Printing
11 September 2020: Digital technologies are revolutionizing the whole value chain of many industries and textile printing is no exception. With advent of advance digital technologies, the printing processes have evolved a lot. The benefits, that start from the printing businesses, extends right up to the end-users, ultimately benefitting all the stake-holders.
Recognizing the ever-increasing importance of the digital technologies in textile printing, Orange O Tec, a rapidly growing provider of high-quality digital solutions to Indian businesses, has launched its own brand Colorix for providing Industrial High speed digital machines.
And now with its own brand – Colorix, Orange O Tec aims to offer advanced and high-tech printing machines to suite varied needs of the Indian industry. Colorix has added new product range offering customized printing solutions for various textile printing segments in the market.
The Colorix range of digital printing machines include FabPro II, a versatile Direct to Fabric printing machine as well as a full range of Sublimation Printers, named Sub Pro I, Sub Pro I+ and Sub Pro II+.
The versatile range of machines supports printing from 180 sqm/hr to 500 sqm/hr.
The Colorix machines are Industrial High speed digital machines designed to provide exceptional new advantages offered by digital solutions to the textile industry.
# They provide fluorescent colour as well as fine results for rotary type blotch designs.
# Full range offers unmatched maintenance cost edge, giving the industry much-needed viability in small orders and minimizes dead stocks.
# The machines require less labour, which is of prime importance to maintain social distancing and yet keeping business afloat.
# The machines offer unlimited colour option to unleash creativity.
# They also enable fast sampling to help the industry keep pace with demand.
The key advantage of the Colorix machines is the fact that they come with Kyocera head, providing finest results A unique Head Insurance Plan offered by the company ensures almost non-stop production and peace of mind for the business. Orange O Tec has already supplied 30 Colorix machines in a short span of 20 months.
Surat based Orange O Tec is already a highly reputed name, providing a wide range of digital and auxiliary machinery as well as its peripherals for Textile printing. Keeping pace with the evolving newer technologies in textile printing, Orange O Tec is striving to provide solutions which can help boost the textile printing industry.
www.orangeotec.com