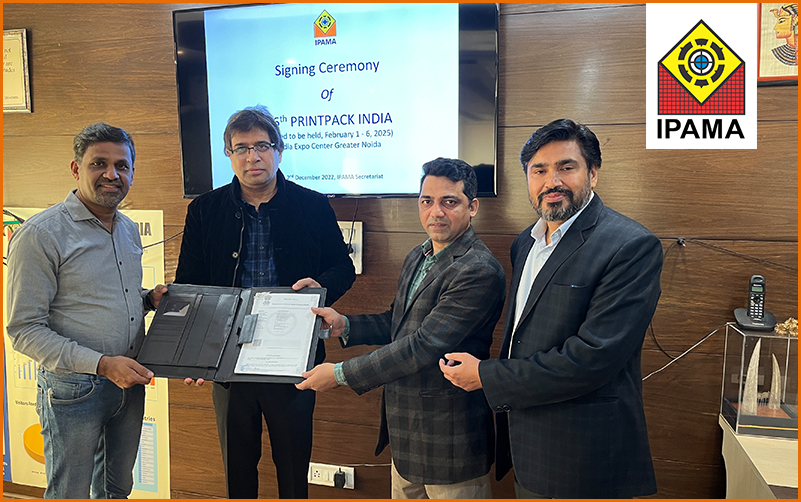 Print Pack India 2025 Dates Announced: To Be Held From 01-06 February 2025
03 December 2022: Indian Printing Packaging & Allied Machinery Manufacturers' Association (IPAMA) proudly announces the much-awaited 16th edition of PRINTPACK INDIA Exhibition dates from 01-06 February 2025 at India Expo Centre, Greater Noida, NCR Delhi for which agreement has also been signed with IEML on 2nd Dec 2022 at IPAMA Secretariat.
Rakesh Sodhi, President, IPAMA said that "PRINTPACK INDIA provides platform to Indian Printing and Packaging machine manufacturers for showcasing their technology and competence. The industry anxiously awaits to be the participant at this show both as exhibitor and visitor to see the latest and the next gen machines. IPAMA is committed to fulfil the expectations of the industry and its Members, hence, organizes this prestigious and important international event on a very affordable rates so that it could remain in the reach of even the smallest companies".
He further said "We are excited to start workings of the 16th PRINTPACK INDIA with our valued partner community. Instead of the two years of cycle, next edition is being organized in Feb 2025 as Drupa is scheduled in May 2024. We want to give equal opportunity to the exhibitors and visitors to explore the technologies both at international and national level. With the successful conclusion of 15th PRINTPACK INDIA Exhibition, 487 exhibitors on a net area of 25,342 sq. mtrs. and record number of 1,03,412 Indian and foreign Business Visitors, we have already raised the bar to organize the exhibition at international standards with modern facilities."
Likewise, the previous edition, 16th PRINTPACK INDIA will also be organized on segment-wise; Two Halls will be reserved for Label; Two Corrugation; one for SIGN & LED; half for Paper segment; half for Screen Printing and the remaining Halls will be for mixed Printing and Packaging segments. The Exhibitors will be kept informed, from time to time, about the additions or the changes, if any, relating to the pattern of organization of the Exhibition. The booking of space for the Exhibition will also start in a month which will be conveyed to all concerned through different modes of communications and also uploaded on different social media channels and IPAMA's Website.
Prashant Vats (98719 99384) / www.printpackipama.com